I will happily spend a few days on island time any chance I get. If you need a reason to jet off, look no further than this guide to my favorite Hawaii highlights. Aloha every day! While planning your trip you should research the local culture and mistakes to avoid in Hawaii.
OAHU
We flew into Oahu from LA and NYC and spent a few days here first. I found the main island to be pretty commercial and didn't enjoy it that much. We tried to hike the Stairway to Heaven following the directions to get there at 2am and try to sneak around the gates. However, police showed up immediately and we couldn't get around all the barbed wire. Suddenly, I was really itchy, so we bailed and went to the nearest Walgreens. Funny enough the pharmacist said they received word to start stocking Poison Ivy removal soap just a few days prior. It's still a life goal to do this hike and the photos look amazing so if you have any tips for actually getting there please let me know! We enjoyed eating at Nico's Pier 38 which was on a nice boardwalk. We also visited the USS Bowfin Submarine Museum and the Pearl Harbor museum.
*When I went to Hawaii in 2016 poke (pronounced po-kay) wasn't popular in the rest of the U.S. yet. You definitely want to have this local dish, and one of the Hawaii highlights, complete with traditional Macadamia nuts! It's pretty easy to vegan-ize poke (they usually just use tofu instead of ahi).
MAUI
We took an easy flight across the islands on Hawaiian Air. Our accommodations in Maui rocked, but there's a few things to note beforehand. We stayed at Sunseekers in Kihei. It's a LBGT resort, which is awesome. However, we didn't realize this before we booked and the pool and hot tub are clothing optional. Skinny dipping might be on your vacation bucket list. But don't worry if it is not, the beach is right across the street and we didn't ever go to the pool! How could you when THIS VIEW is just a few feet away? The hotel is comprised of private little villas and it's extremely cheap considering you have a private beach!
That night we ate in a shopping center nearby in Kihei so my friend could try the famous fish tacos at Coconut's fish café.
My favorite day of the trip was driving the amazing Hana Highway (one of the Hawaii Highlights).
We used info from this site – it's really helpful because the mile markers are screwy and not in order. I printed it out to take along. Hana Highway is a 52-mile country road with all these stops and a MUST DO. We didn't plan well so don't make the same mistake! It's a really winding road so you have to go 15-20 mph and it takes a good 3- 3.5 hours each way. We started out at 9 I think and finished breakfast in Paia at 12, too late to just be starting.
Our stops:
Mile marker 9 – Paia town (this is the start of Hana highway). Lots of cute places to have breakfast – we went to Charley's restaurant & saloon.
Mile marker 2 – Twin falls. These are the most accessible falls. We came back the next morning and I went swimming in the pool beneath the falls.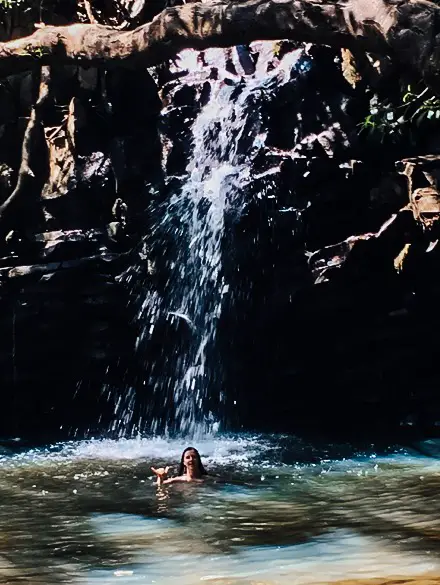 Mile marker 10 – Garden of Eden arboretum. This is a hidden gem! Plants may not be your thing, but it's a really neat property a family made into botanical gardens and has 100-year-old trees.
Mile marker 13.5 – Pe-ahi/"Jaws" – this is a cliff where you can see HUGE waves. Make sure to check the surf conditions and take notes of where to turn as it's a little complicated to get there.
Mile marker 17 – Halfway to Hana farmstand. This is the best banana bread. We got 2 loaves and ate them every morning for breakfast for the rest of the trip.
Mile marker 27.5 – Coconut Glen's ice cream – you can actually get coconut ice cream in a coconut shell.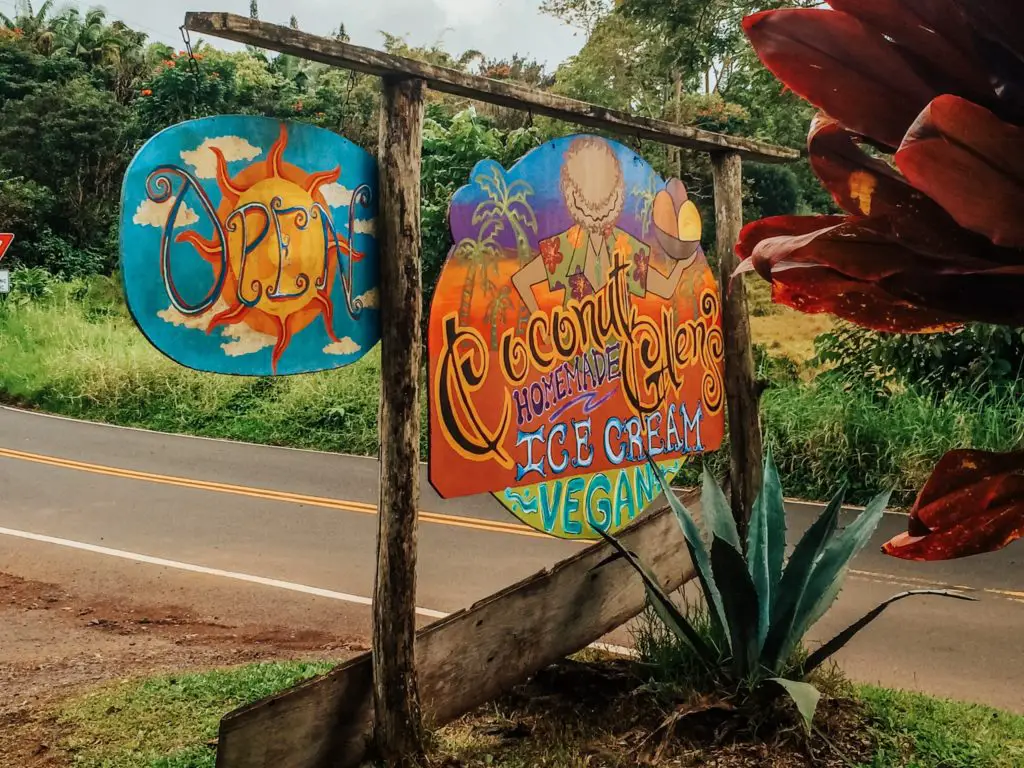 Mile marker 31 – Kahanu Garden – largest temple in Hawaii. Check the hours! We really wanted to see this but by the time we got there (4 pm) they were closed. Super disappointing!
Mile marker 32 – Wai'anapanapa State park – MUST DO. This is the most beautiful black sand beach (top of the Hawaii highlights) with tons of sea caves. Amazing. We spent a good bit of time here.
Mile marker 42 – Waimoku falls at Haleakala national park. We got here super late (about 5:30) and it was a huge mistake because it's a 2-mile hike to the falls. We were super stressed and running to avoid darkness. The falls are amazing – 400 ft high! But the trek back was really tricky because it was getting dark and rough terrain (you want to be able to see your feet).
On our drive back to Kihei we stopped in Hana town for dinner at Travasaa Hana hotel's restaurant. The food was really good but pricey. Again major planning fail when we realized it was 7:30 pm and we had a 3-hour drive back…
On Sunday we planned to do whale watching/snorkeling but the trip we were going on had to reschedule for next day because of wind. Keep this in mind when booking excursions! So instead we went back to Twin Falls. That afternoon went to Haleakala State Park to watch the sunset. You drive up this windy crazy road with no guard rails for the view. It takes about 1.5 hours to get there from Kihei. You can do sunset or sunrise. With sunrise you can get there early and stargaze. If you choose sunset instead I don't recommend you stay too long to see stars – you want to get going because the road is scary to drive down in dark.
This was another major of the Hawaii highlights. It is amazing to be able to see the clouds all around you! After Haleakala we tried Morimoto Maui and it was delicious!
On Monday we went for an early morning surf lesson in Kihei. I recommend Waves Hawaii Surf School. My instructor Ashley was amazing. I really advanced in 2 hours and Hawaii has nearly perfect conditions for surfing.
That afternoon we booked a snorkeling/whale watching tour with Four Winds Maui. It's $44/person but there is an open bar, so it essentially pays for itself. We went to Hawaii in February which is the breeding season for whales so we saw several! It's a great month to visit Hawaii.