In spring 2021 I took a ski road trip. I decided to check out two resorts out west – Mammoth and Timberline Lodge. I knew I wanted to spend a few weeks at each and really get to know the towns and resorts. However, I couldn't afford to rent a place that long so I decided to car camp. I decked out my car with the following and spent 6 weeks total traveling.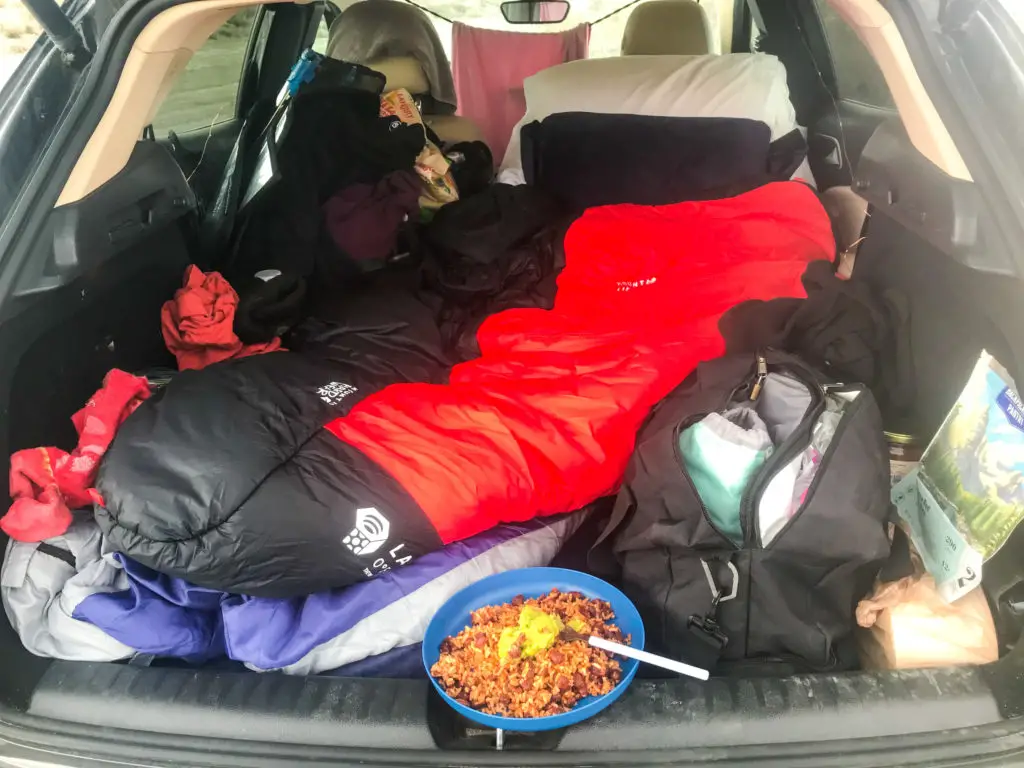 It took me 4-5 days to drive from West Virginia to California and then from Oregon back. It took me a day or two to drive from Mammoth Lakes, CA to Portland, OR. Since I was driving by myself on my ski road trip I tried to limit my driving days to 10-12 hours and I slept in Walmart parking lots. If I couldn't find a good Walmart I tried some other stores that let you stay overnight like Cabela's and Cracker Barrel. I showered at campgrounds and Love's for a fee and thankfully made friends in both places that also let me borrow their showers.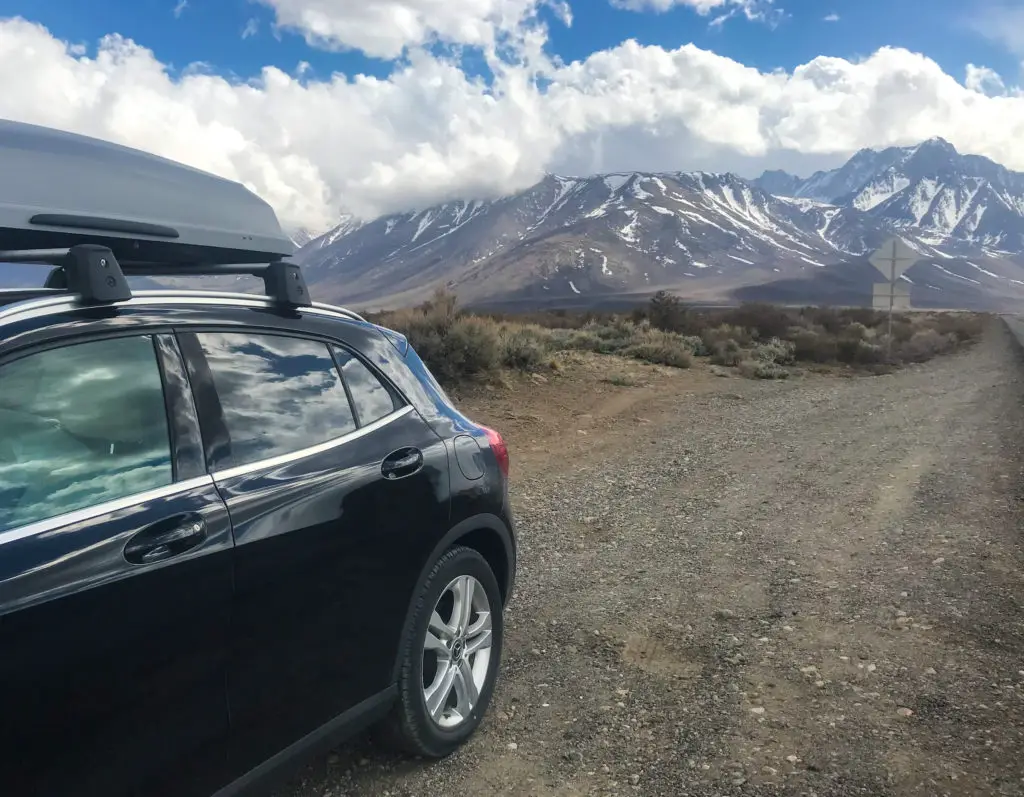 At Mammoth I camped on BLM land and at Timberline I parked overnight in various Sno-Parks (parking lots that are free in the summer and require a pass in winter). I used my Ikon pass for Mammoth and got the cheap spring pass for Timberline. I stayed at each place on my ski road trip for a good two weeks or more and got so much great skiing and snowboarding in. The parking lots are basically a party after the lifts close – everyone cracks open a beer, grills out and mingles. I felt very safe the entire time I was camping and met a lot of great friends along the way! Here's how I decked out my small SUV for the trip: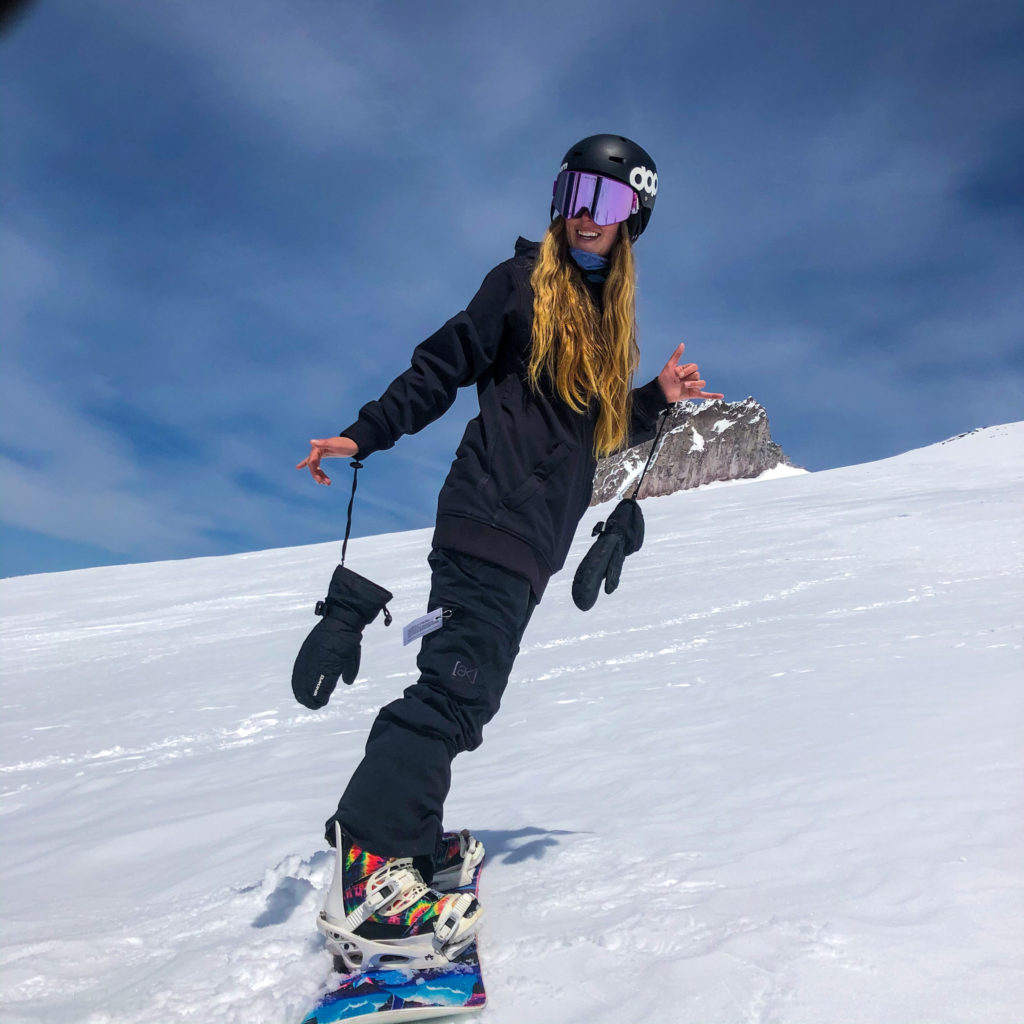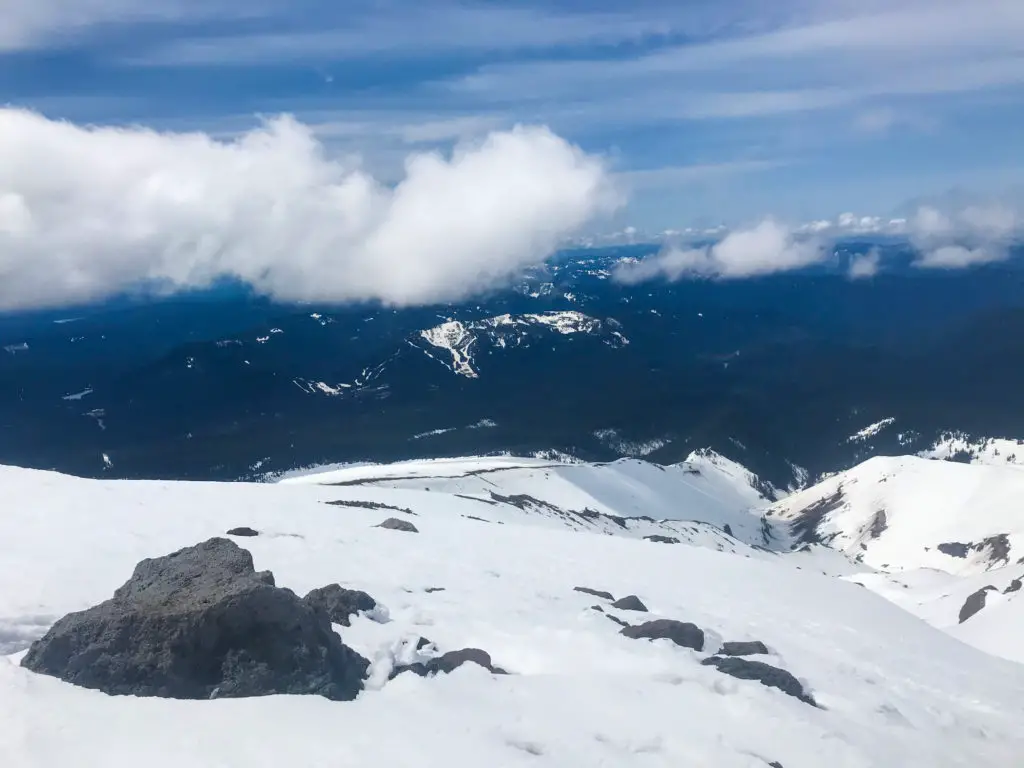 Sleeping: I used this Mountain Hardwear 0-Degrees sleeping bag on top of this memory foam sleeping pad to comfortably sleep along the length of my car. I kept several safety essentials next to my "bed," such as a hunting knife, my car keys and pepper spray.
Dishes and laundry: I got these collapsible wash basins which were great for doing dishes or laundry. When I did my dishes I made one with soapy water and the other with clean water for rinsing. I got these camping dishes and used this harmless camp dish soap. If I did laundry I used these detergent packets and then hung to line dry with a travel clothesline attached to the hooks in my back seat area. If I paid to shower at a campground I would hang up my towels to fully dry this way too.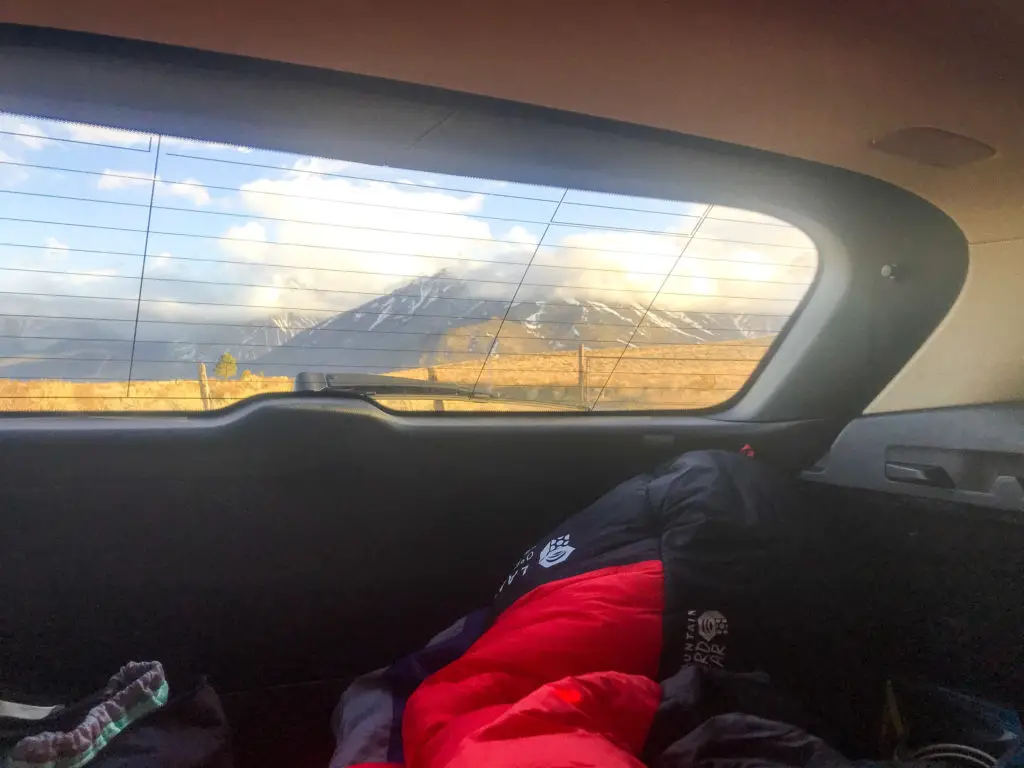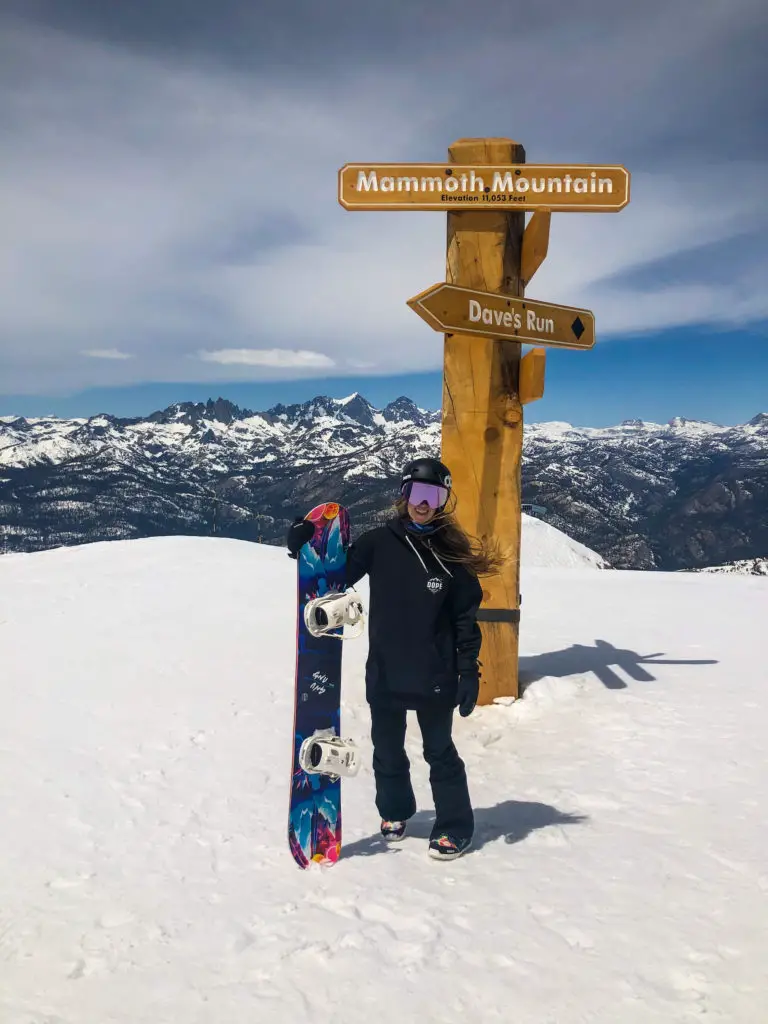 Bathing and bathroom: I mostly used face and body wipes to keep clean and showered at campgrounds. I kept a female urination device and bright yellow water bottle for when I had to pee in my car because I didn't feel safe getting out (late at night, Walmart parking lots when sleeping there overnight, etc). I also got this trowel for when nature calls and I needed to dig a hole. It's really important to leave no trace, so I always kept all my toilet paper with me to dispose of later.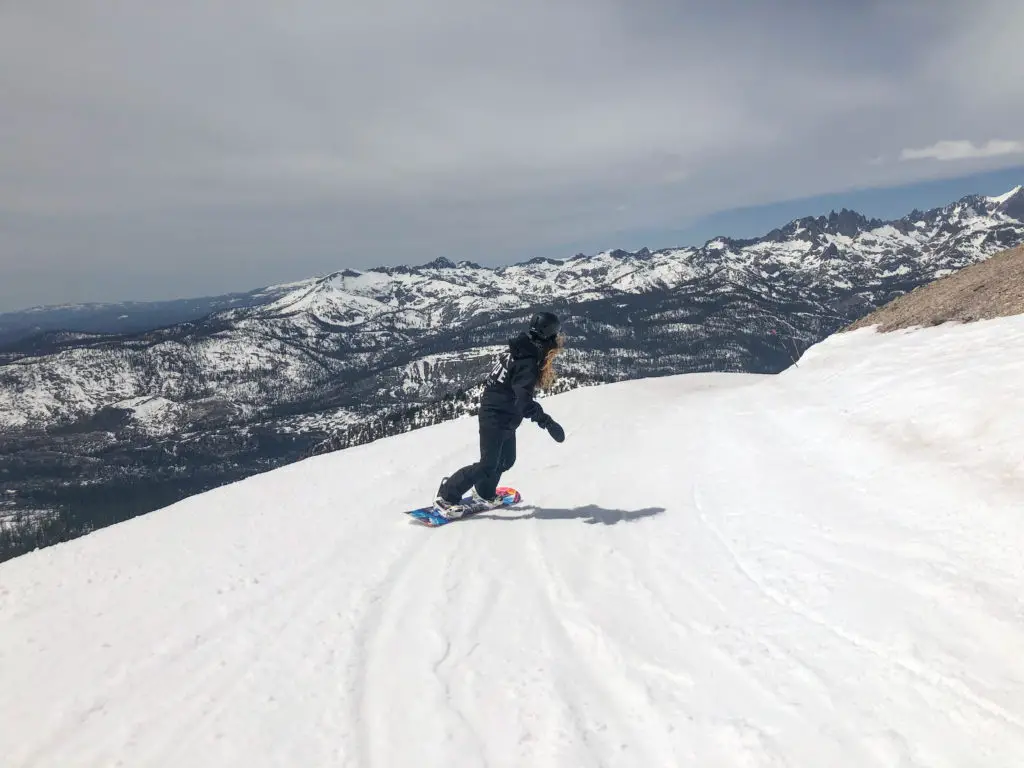 Cooking: I kept a lot of backpacker meals with me and although I got a Jetboil I rarely used it and ended up selling it. I usually got hot water from coffee shops or gas stations to make my meals, oatmeal for breakfast, or instant coffee. For lunch I kept sandwich bread, Tofurkey slices, hummus, avocado spread, coffee creamer and more in this amazing cooler. I made a sandwich to take with me every day.

Water: I used two of these 6 gallon jugs (one for filtered drinking water and one for regular tap washing water).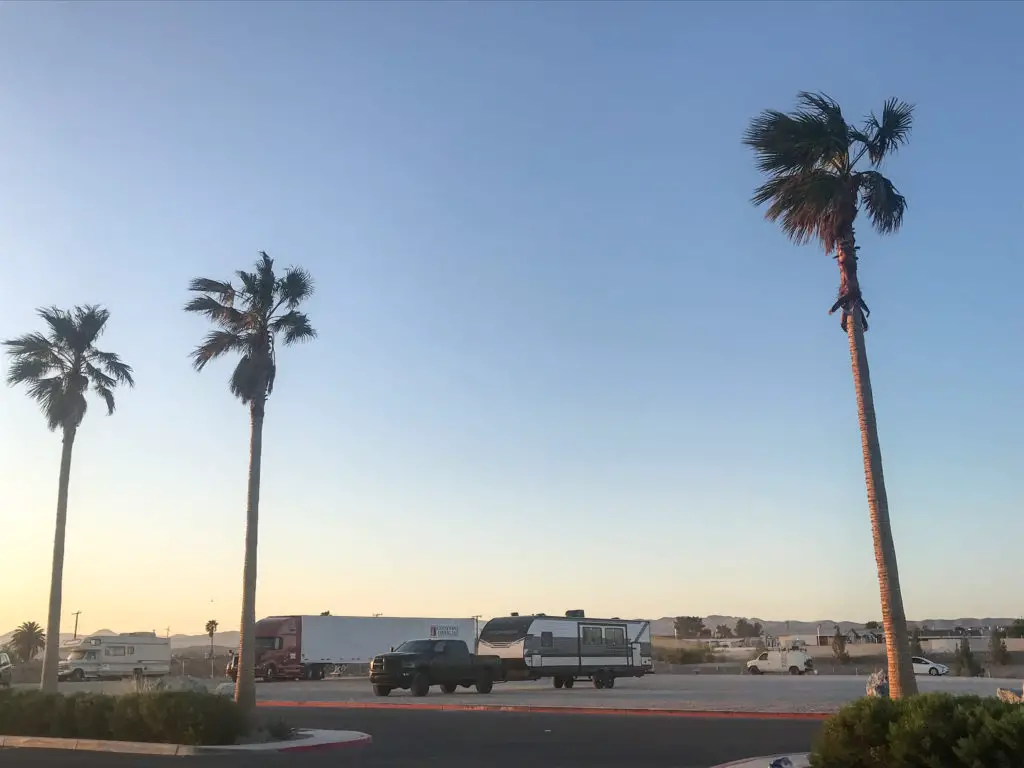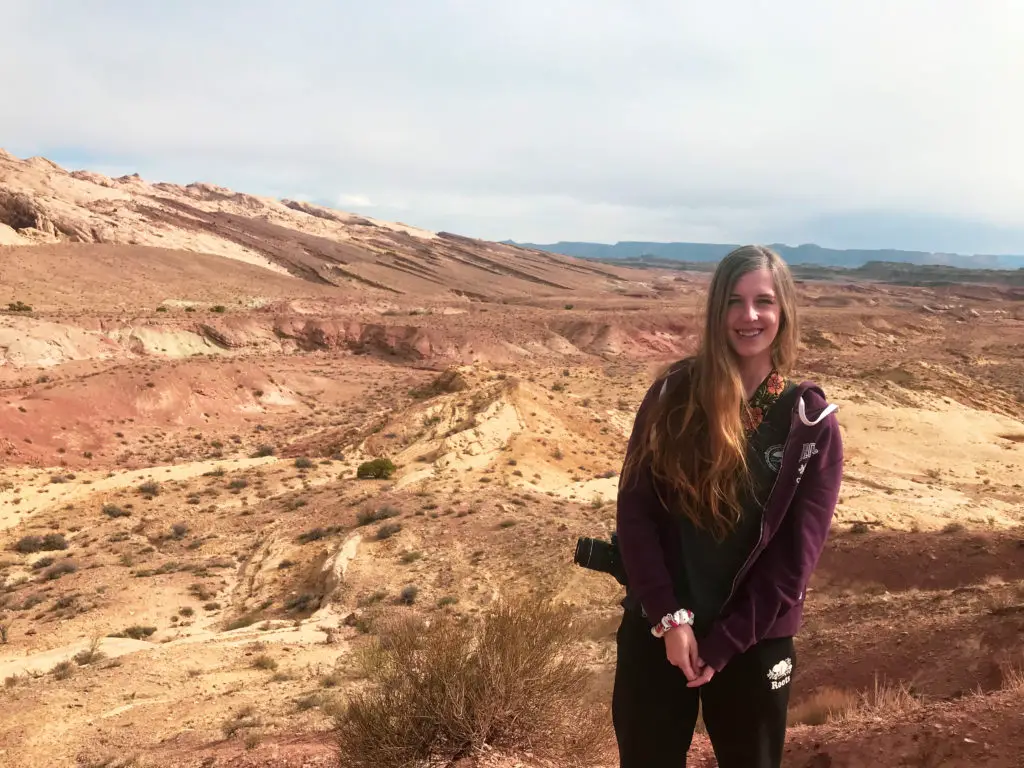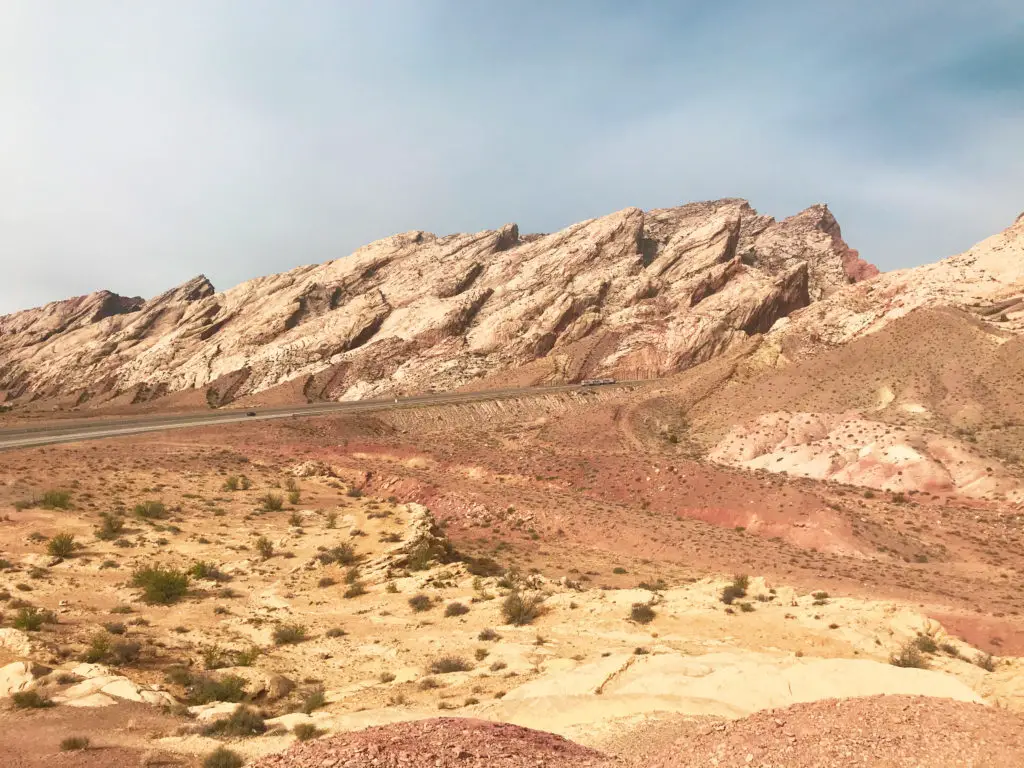 Window covers: I got these nice Weathertech reflective covers that were perfectly fitted to my car and included every window including my rear windshield.
Safety: I always kept my driver's seat clear in case I needed to hop up front and drive away quickly, which did happen once when I heard scratching outside my car at midnight. I also kept one of these fire extinguishers with me.
Electronics: I used this power box (looked at Jackery too but in the end I went with this and it was great) to charge my phone and tablet. Whenever I was in wifi I downloaded shows and movies on my tablet. Usually, I also charged a small Anker power bank, which I used with my electric longsleeve shirt. If I got too cold sleeping I could just press a button on the sleeve to turn the shirt on. I charged the big power box whenever I had access to an electric socket, but it would go for days without needing to be charged.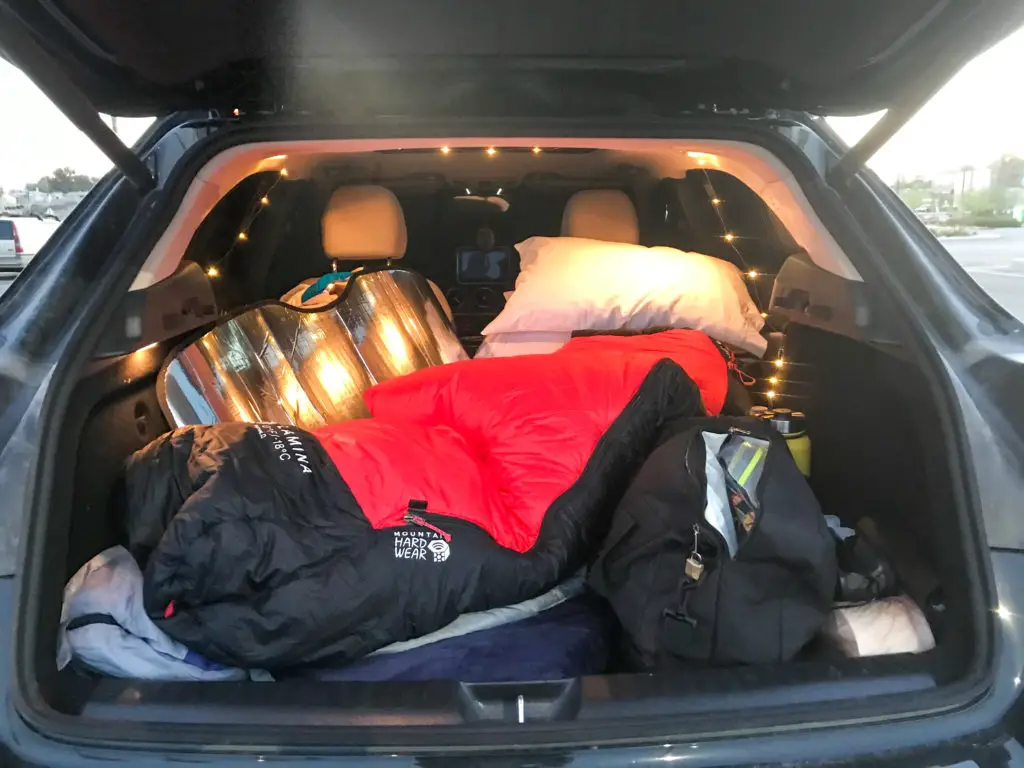 Overhead box: I did get roof racks and an overhead box installed on my crossover prior to leaving on my ski road trip. It was really helpful for storing my skis, snowboard, snow gear and more. I used these Dry Guy travel boot dryers which worked from my car cigarette lighter and would dry/warm my ski or snowboard boots when driving to/from my camping spot and the mountain.
Lights: I got a small camping lantern, but mostly ended up just using some battery-powered fairy lights wrapped around the inside of my car. They provided a lot of light and were very cozy.