When I first started teaching skiing I was pretty clueless about the best ski wear. Honestly, I probably looked like a jerry. Since then I've tried a lot of neckups, jackets, socks, snowboard pants, etc. and know what gear rocks and will keep you warm! Here's what I recommend: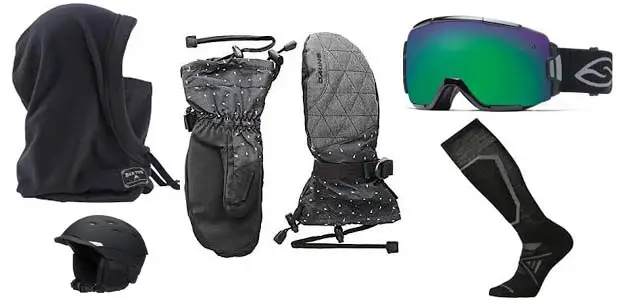 Socks – I've tried a lot of brands of socks and Smart Wool is by far the most comfortable to me. I also own some Burton and Dakine socks but they just don't fit right or slide down or bunch up or dig into my skin too much. Smart Wool is tailor-made to my foot and super warm. Plus, I also wear Little Hotties toe warmers on very cold days. I have several of these socks and wash them with all my other clothes.
Neckup – I like both the Turtle Fur neckups for prints and my Spider neckup for warmth. However, the most amazing balaclava is the Burton Burke hood. It fits over my helmet and completely covers me. It is the snuggliest material and I am really obsessed. I tried some other brands like Volcom but couldn't get the hood over my helmet and don't like wearing it underneath.
Jacket – I splurged on the 686/Smith Squad jacket and it hasn't let me down. The thermal rating is a 4 so it is very breathable and not too hot. But it is very waterproof! I use it as a rain jacket as well. I was worried the jacket wouldn't keep me warm, but I have found as long as I have good base-layers everything is fine.
Base-layers – 686 makes some really warm puffy layers.
Snowboard pants – Burton is my favorite brand for pants. I love the AK line but it is really pricey. My other favorite style is the Gloria pant – it is form-fitting but flattering.
Helmet – We got pretty lucky as instructors and were given a Smith Variance helmet. I love the rim for rainy days, it keeps a lot of water off of my face. The only feature I wish this helmet had is a magnetic clasp (I like this aspect of Giro helmets).
Gloves – I swear by the Dakine Camino mittens. I teach in all weather and the little scraper on the thumb is like having a built-in windshield wiper for your goggles. Plus it's imperative to have wrist straps for safely taking off your mitts on the lift. They come with Storm glove liners, but I usually like these thinner liners instead.
Goggles – A friend gave me the Smith Vice goggles and I love them. They are the blackout style, but they aren't super dark either. You can get other lenses to change out for night skiing or cloudy days. It's really nice to have a quality pair of goggles. I started out with cheap Bolle and Spy goggles and I can really tell the difference between them and Smith.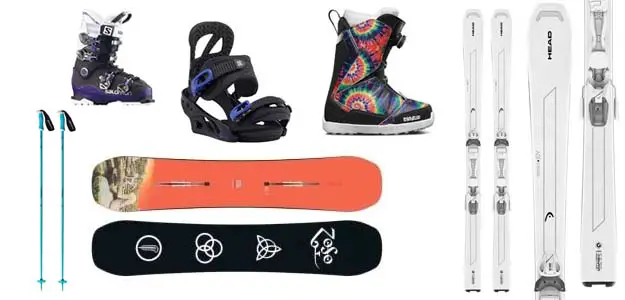 Skis – my mentor suggested I invest in the Head Absolut Joy skis and they are wonderful. I love that they are light for teaching, but can still perform well when I'm free skiing. Plus, they are beautiful. They great all mountain intermediate skis – easy to set on edge and very durable.
Snowboard + Bindings – I bought the Burton Easy Living snowboard in 152 because of the Led Zeppelin graphics, I will admit. However, I've found it washes out turns a bit and the sintered base makes it hard to keep wax on my edges. But, I will forever love the design of this board. Still, my next board will be either a Capita or Never Summer (ironic I know). I went with women's Scribe bindings to fit with the channel board.
Poles – I picked up the Atomic AMT SQS during a sale and they have been great for teaching. They are bright so they stand out and the price point was very reasonable. It's true that poles are easy to lose when you are storing them in a crowded locker room, so most of my friends recommended not getting expensive poles.
Snowboard boots – I love the funky print of my 32 Boas. They were very cheap on Amazon and I got them heat molded at the shop on the mountain. They've also been pretty waterproof. If I were using these more often I would have probably gone for the lash, because I've heard the boa can break. But I don't snowboard as often as I ski and the ease of getting into these is too hard to pass up.
Ski boots – I love the Salomon X Pro series. These were the 4th pair of boots that I purchased before finally settling on one. (For reference I bought two pairs of Nordicas and one pair of Full Tilt boots first). These are very comfortable, which is important because I wear them for several hours every day. But they are also top-notch boots and I can get the high level performance I want out of them. My foot is very small and a little wide so it is hard to get a good fit. My biggest problem with the Nordicas is that my arch is too high for them and my foot goes numb. I'm not ready to invest in custom boots, so Salomon was a lifesaver for me.
I hope that is helpful! If you have any questions about gear, let me know in the comments.