I used to feel that making the switch to cruelty-free brands for cosmetics and household products was too daunting and expensive, but gradually I started changing a product at a time and before long I had a full set of animal-friendly products to recommend. Side note: I read that California is trying to pass a bill that would require only cruelty-free cosmetics are sold. How great is that! If you're a California resident I suggest contacting your local legislators and letting them know you fully support this.
Physician's Formula Mineral Airbrushing Pressed Powder SPF 30 ($12.79) and Organic Wear Mascara ($8.13)
I love Physician's Formula as it's an inexpensive drugstore brand that's all natural and doesn't test on animals! Their powder works well for light coverage (I get translucent). I wear contact and am pretty sensitive to mascara but this product hasn't been irritating to my eyes.
SheaMoisture African Black Soap Facial Cleansing Wipes ($5.99), African Black Soap Facial Wash & Scrub ($4.97)
I use these wipes when I feel like just cleansing my face won't remove makeup. They're also great to take on a plane. The African black soap is developed for "problem skin" so anyone prone to breakouts should benefit from the century-old recipe. I use the scrub a few times a week in the shower or any time I notice flaky skin.
Aveda tinted moisturizer SPF 30 $32
Unfortunately Aveda's parent company Estee Lauder tests on animals so I'm looking for a new tinted moisturizer (any suggestions?). Until I use the last of this one I'm appreciating the sheer hint of color. I use Aspen, the lightest shade, and it works on my super-pale skin.
Pacifica eyeliner ($9.49) and nail polish ($8.99)
Pacifica is a great makeup line and they're also vegan! Their eyeliner isn't too heavy and smudges perfectly. The nail polish is a good replacement for the OPI color "Java Mauve-a" I used to use.
Sun Bum sunscreen spray and SPF 30 lip balm
This stuff was started in Florida by beach addicts so you know it'll protect you from harsh rays. I only use spray sunscreens as I don't feel I get an even layer if I use creams or lotions. The lip balm has delectable tropical flavors like key lime and mango.
Love Beauty and Planet Shower Gel
I really like that this brand uses recycled bottles for their shower gel!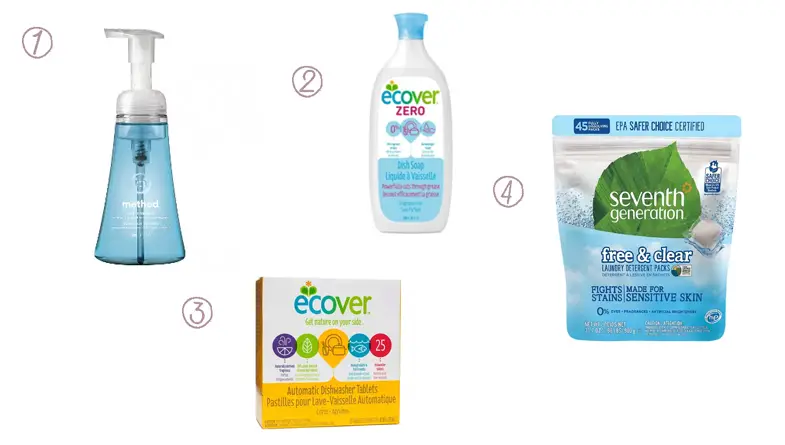 Ecover dishwasher tablets ($5.29) and Seventh Generation laundry pods ($TK)
C'mon you know the tablets and pods are so much easier. These are natural and environment-friendly.
Method foaming hand soap ($2.99, refill $5.99) and Ecover Zero dish soap
I only like foaming hand soap (weird I know!).
If you know of any other great cruelty-free brands I'd like please let me know in the comments below!