The final stretch of my month in South America began when I crossed the border to Brazil, finishing my amazing journey in Iguazu Falls and Rio de Janeiro.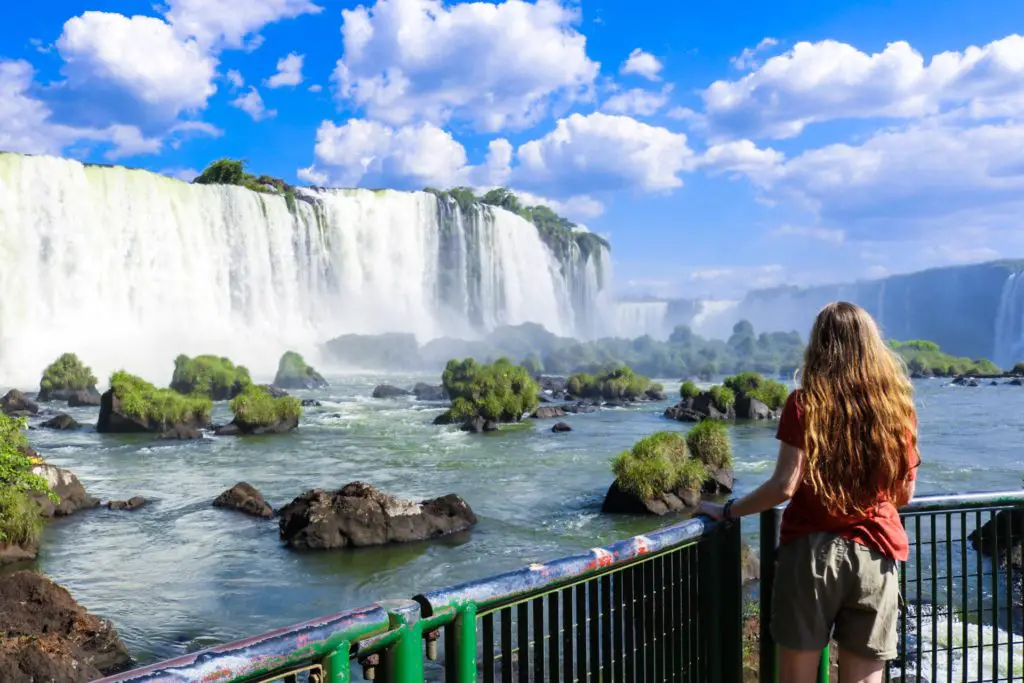 IGUAZU FALLS
Iguazu Falls is definitely worth visiting on the Brazil side in addition to the Argentina side. It is possible to walk the path with views of the falls in just an hour or two, unlike the Argentina side that has many trails and viewing areas. On the Brazil side you can get VERY close to the falls and you will get wet from the spray coming off the falls. I was very careful with my camera at the main viewpoint.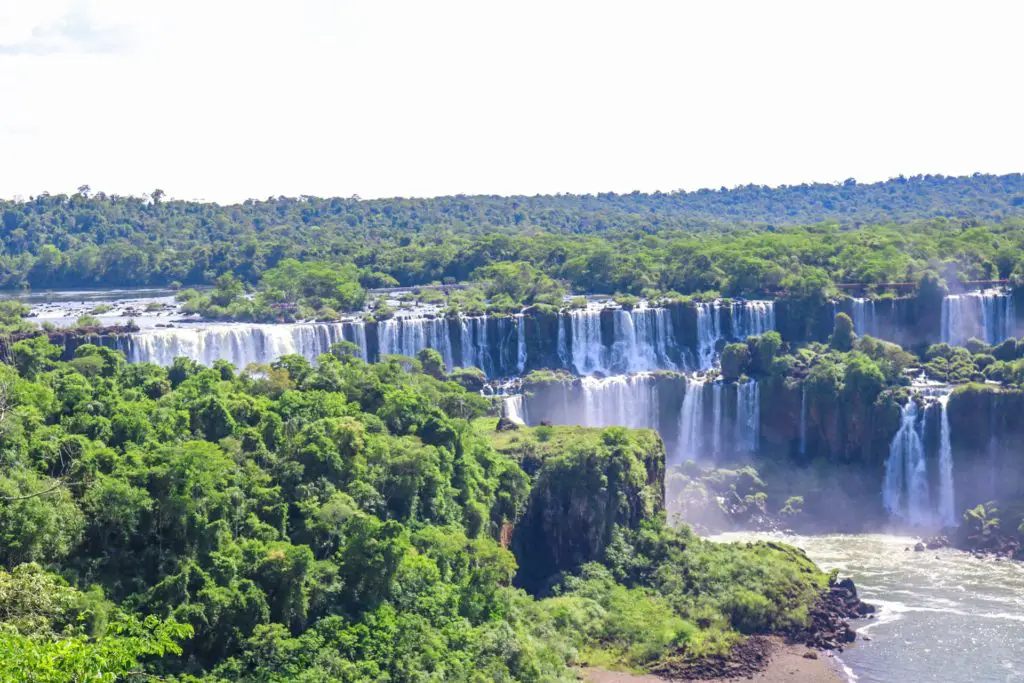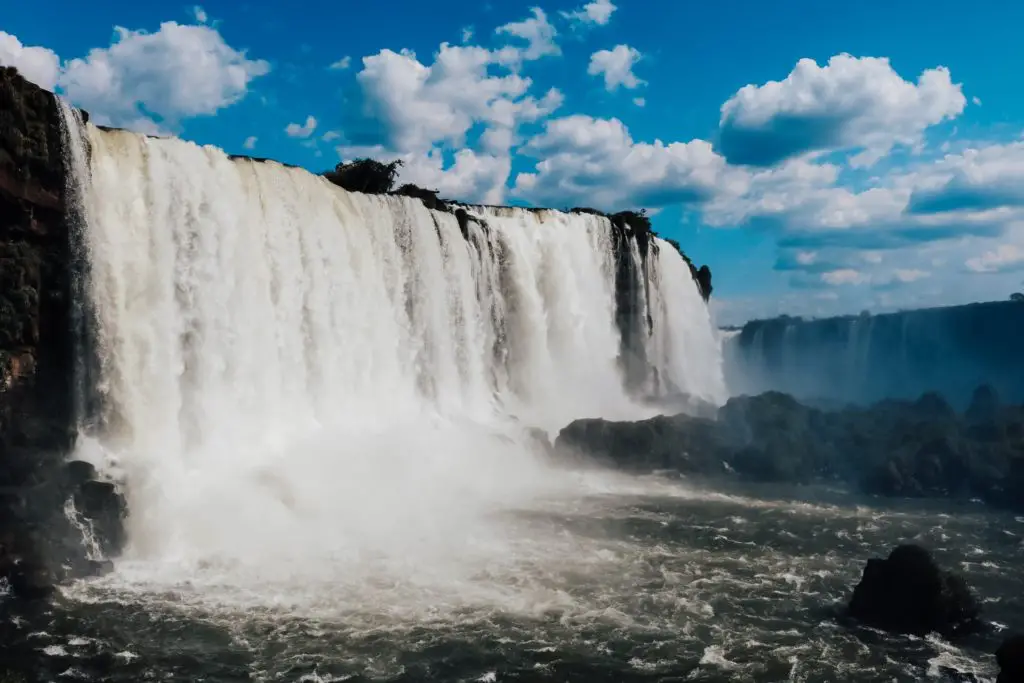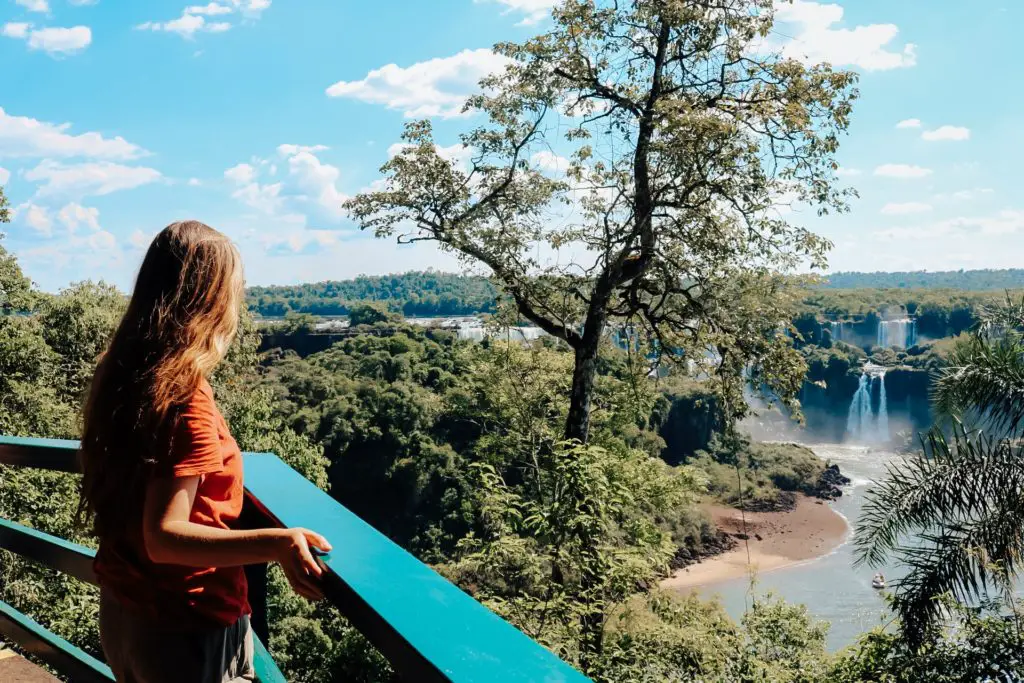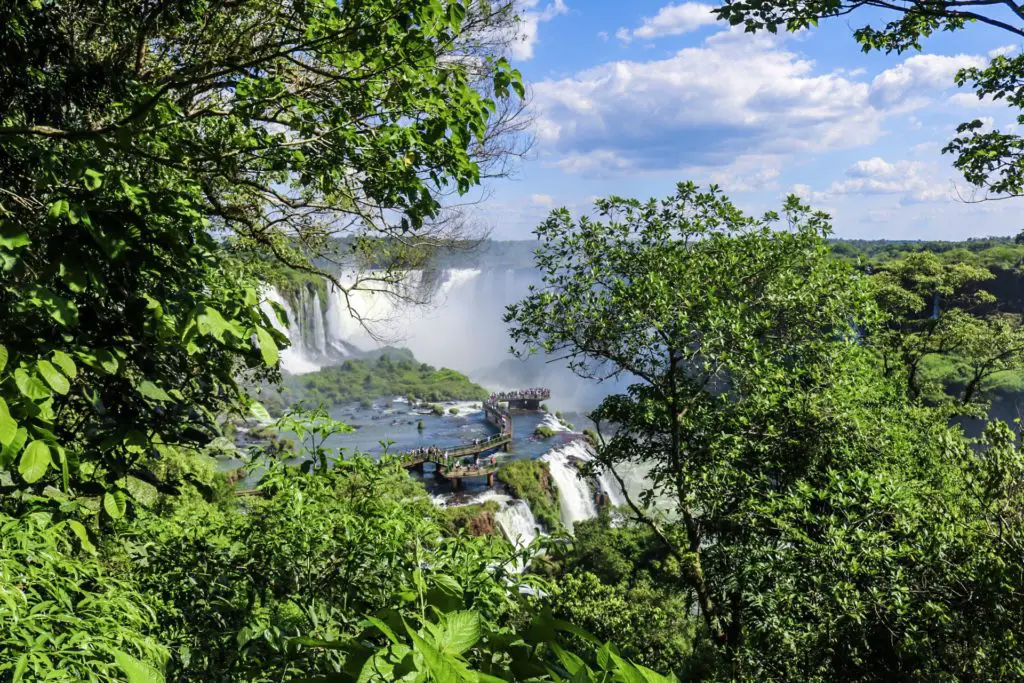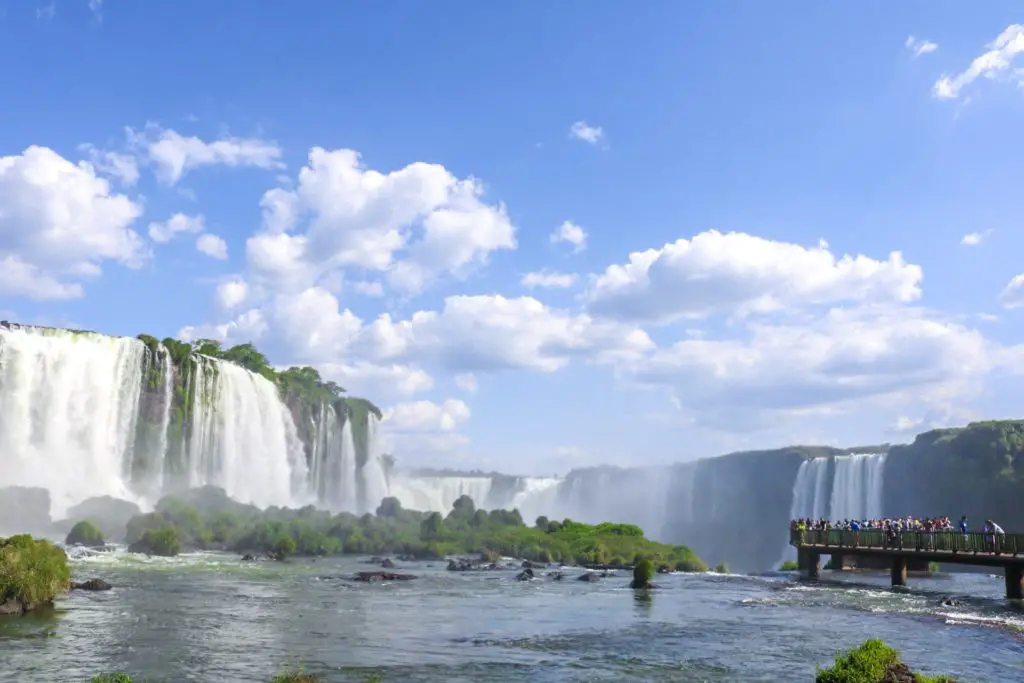 Parque de Aves – since it was possible to explore the park in just a few hours, thankfully we were left with plenty of time at this bird sanctuary. Most of the other people breezed through here, but we spent forever exploring and getting amazing photos.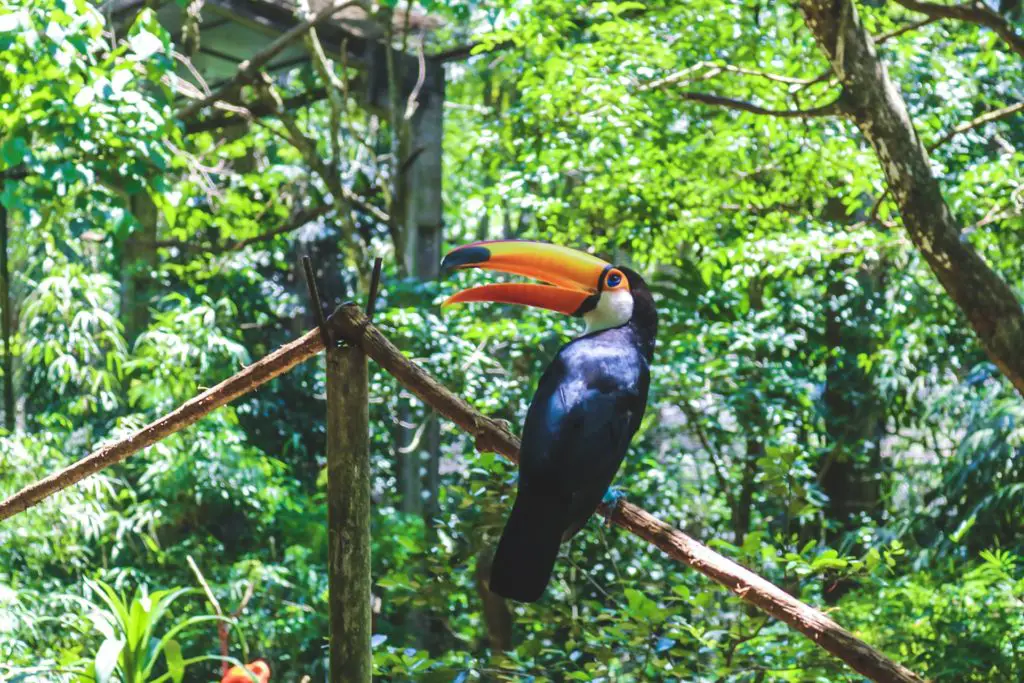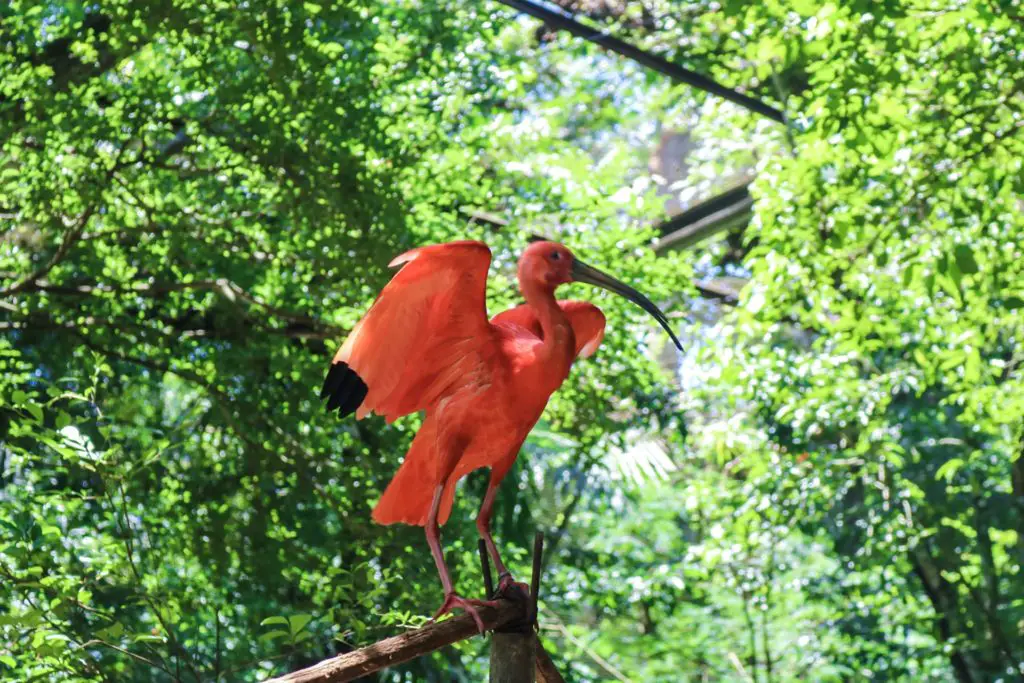 For example, we spent an hour in the toucan area alone. This is necessary to get any good shots as the toucans do not like to come down from the roof area or high perches away from the hordes of people. But if you stay long enough there are lulls where most groups have cleared out, and that is when the toucans will fly down to lower perches or even come all the way down to their feeding area. Most people were frustrated after a few minutes and left, but it takes a lot of patience to get close to the toucans!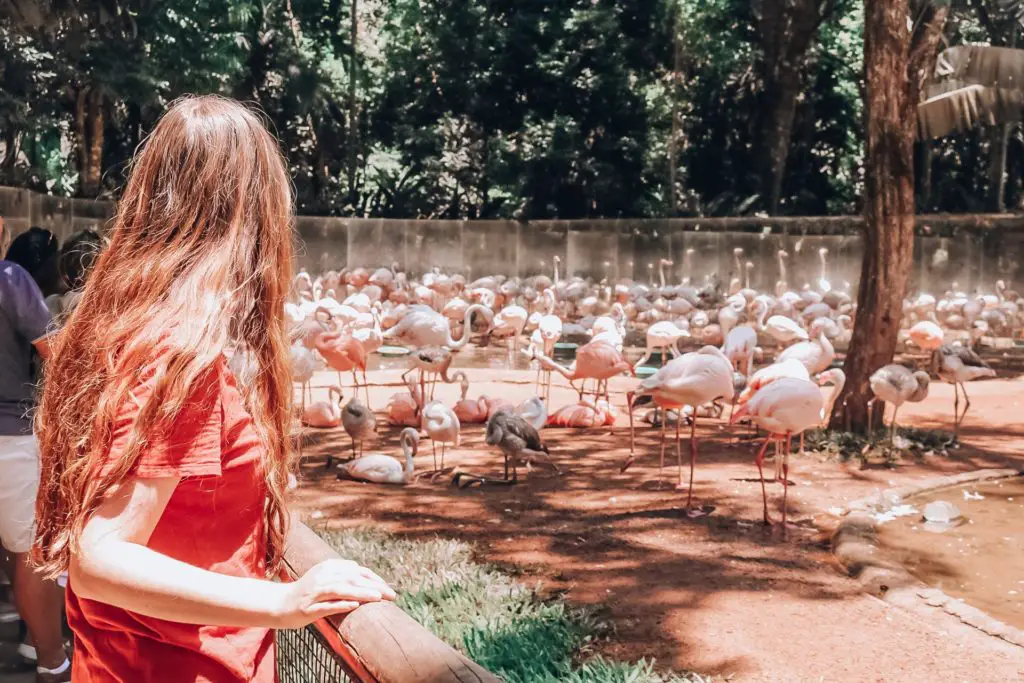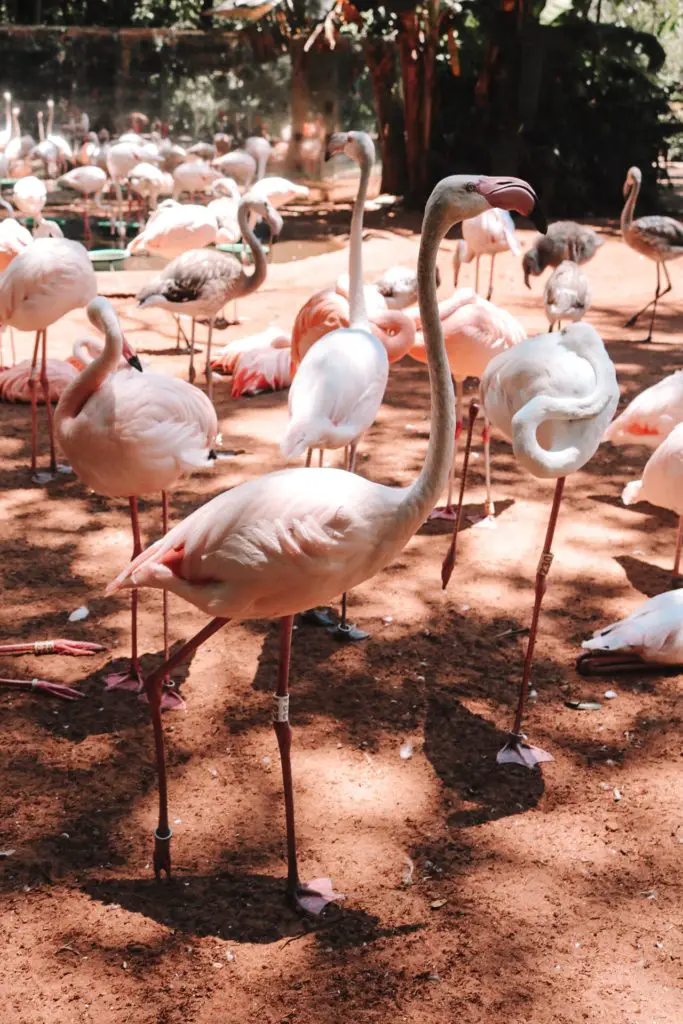 The other standout areas for me were the rooms with flamingos (both Chilean and African flamingos live here!) and the macaws. It is much easier to get photos of the parrots they are constantly flying around (try to capture them swooping in at you in the slow-mo setting on an iPhone!) and they don't get spooked as easily if you are near them. Plus, there were tons of birds chilling at the feeding area and you can get very close.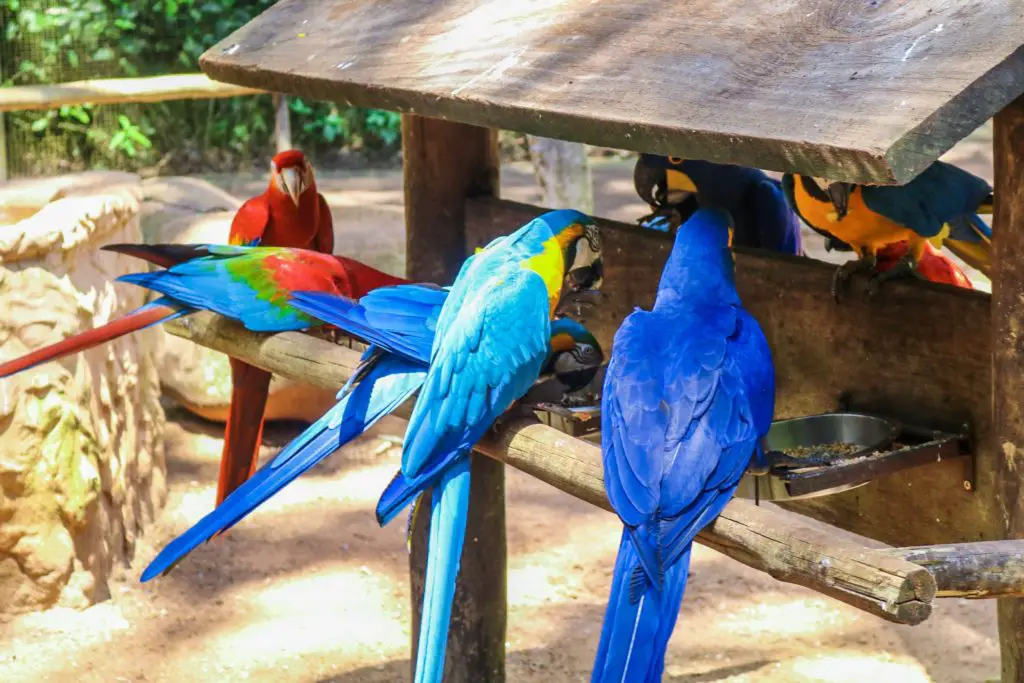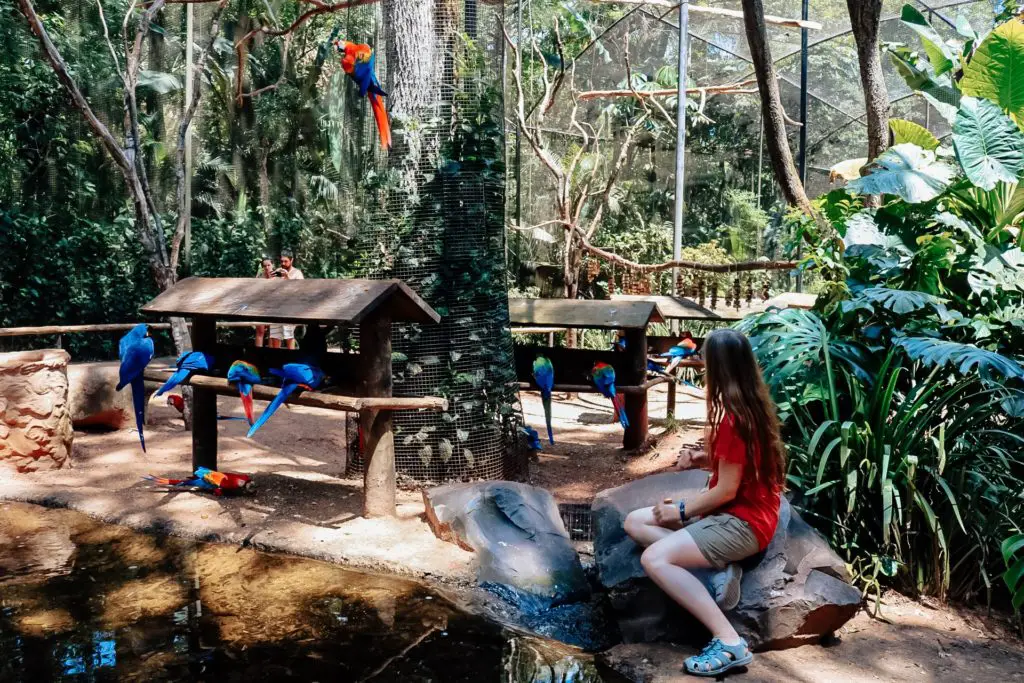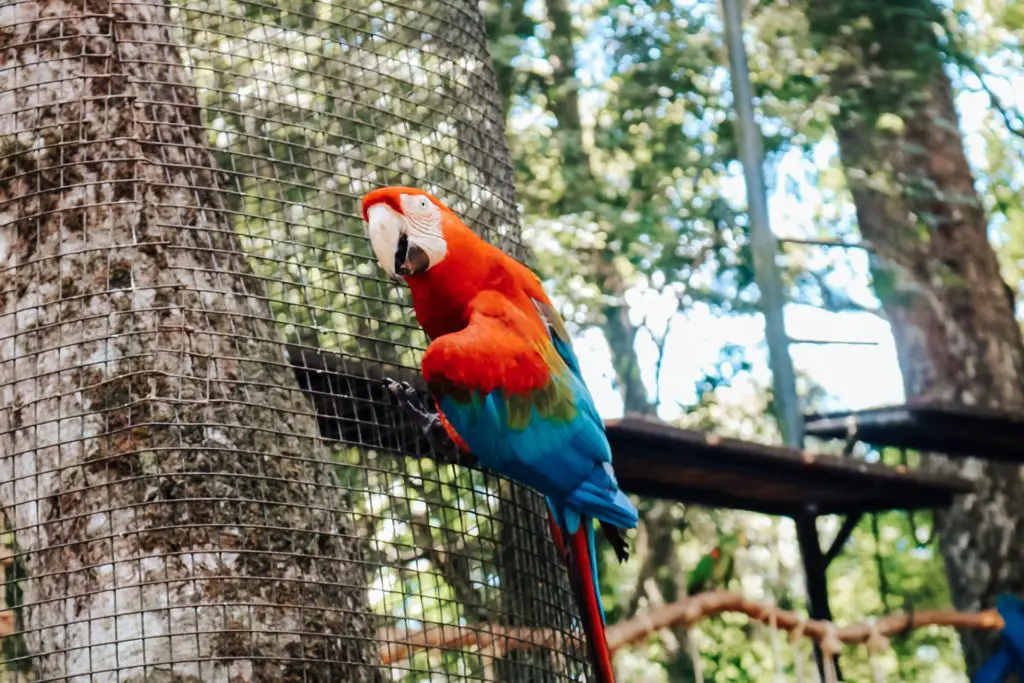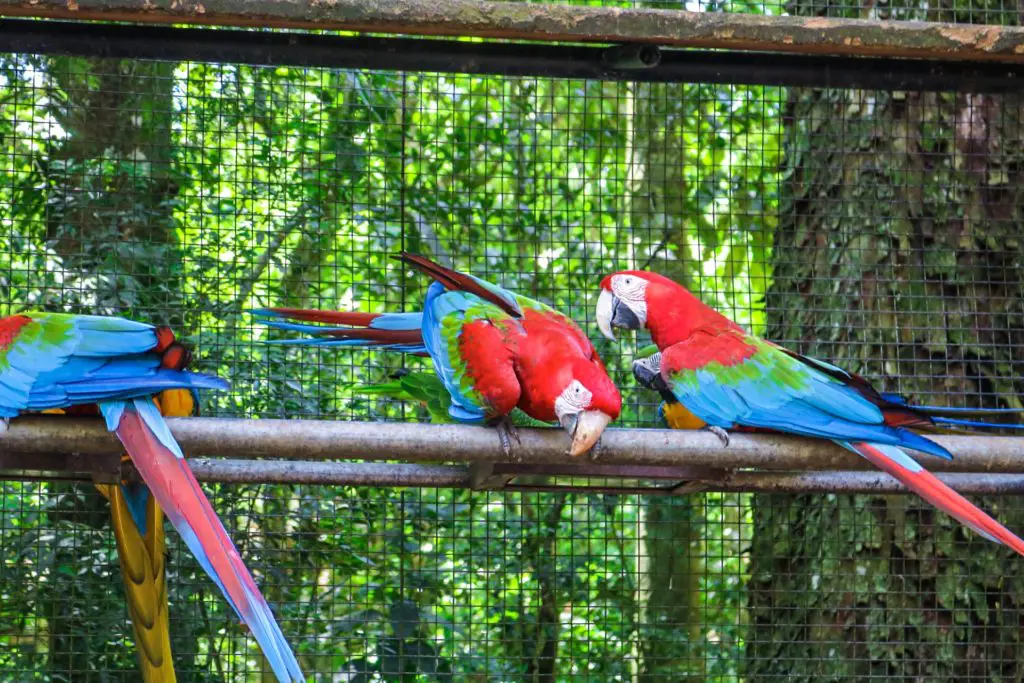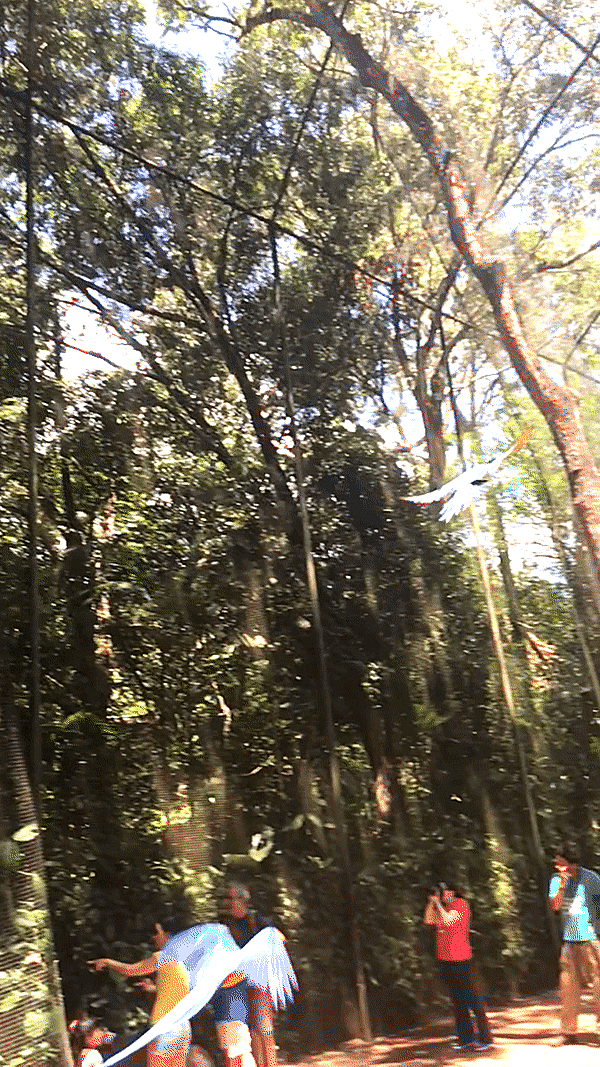 We weren't even sure if we wanted to come here and it turned out to be one of my top experiences in South America so don't hesitate to visit. There is a big black market for tropical birds in Brazil and this sanctuary helps curtail the illegal trade and save many of these species from extinction.


RIO DE JANEIRO
There are so many exciting things to do in this tropical city. Rio de Janeiro has the reputation of being a dangerous place, but I felt completely safe the entire time I was there. A local guide gave me the advice "if the road starts to go uphill – turn around." Simple and effective! The favelas are built in the hills around the city, so where the elevation starts to increase it is likely you are going into a favela. I met some travelers that said they had taken a favela tour and really enjoyed it, but I wasn't interested because it seemed like human tourism to me. Another local told me that 99% of the favelas are filled with good, hardworking, very poor people and that only a small percentage are selling drugs and in gangs. I definitely believe this.
Unfortunately, this city has a huge income gap and there really isn't a middle class – just rich and extremely poor. Despite this, I was really lucky to get to experience some real Rio de Janeiro moments outside of the traditional tourist locations and I loved the friendly and spirited culture of Brazil. However, this was the hardest area for me in terms of communication. I did not find that many people speak English, however some speak Spanish so this was our common language. However, many people only speak Portuguese and did not understand when I spoke Spanish. I definitely recommend learning a little Portuguese before traveling here!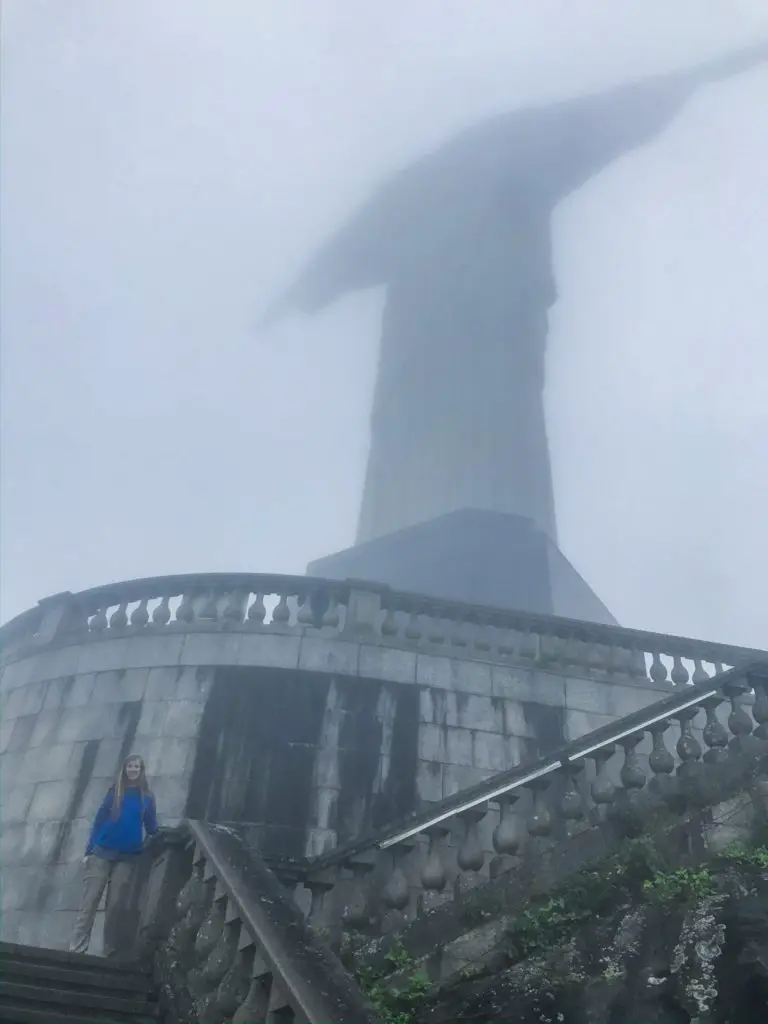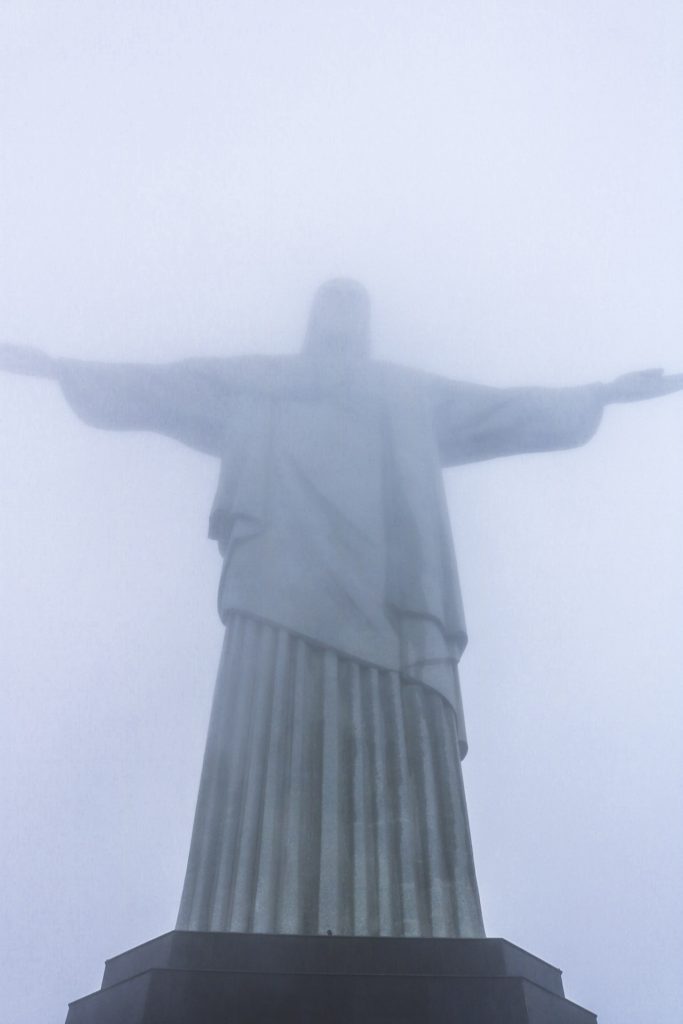 Christ Redeemer – I was so excited to visit my fourth Wonder of the World, but it was raining and cloudy most of my days in Rio de Janeiro. This isn't uncommon, it rains a LOT in Brazil. Many people passed on going to this landmark because of the weather, but I decided to go for it because even if it is foggy you can still grasp the size of Cristo. My photos were not ideal, but I was able to see most of him and it was definitely worth it to be there. This statue is 125 ft tall and it is very powerful to see how tall Christ the Redeemer is up close. It is always busy, even on days with bad weather.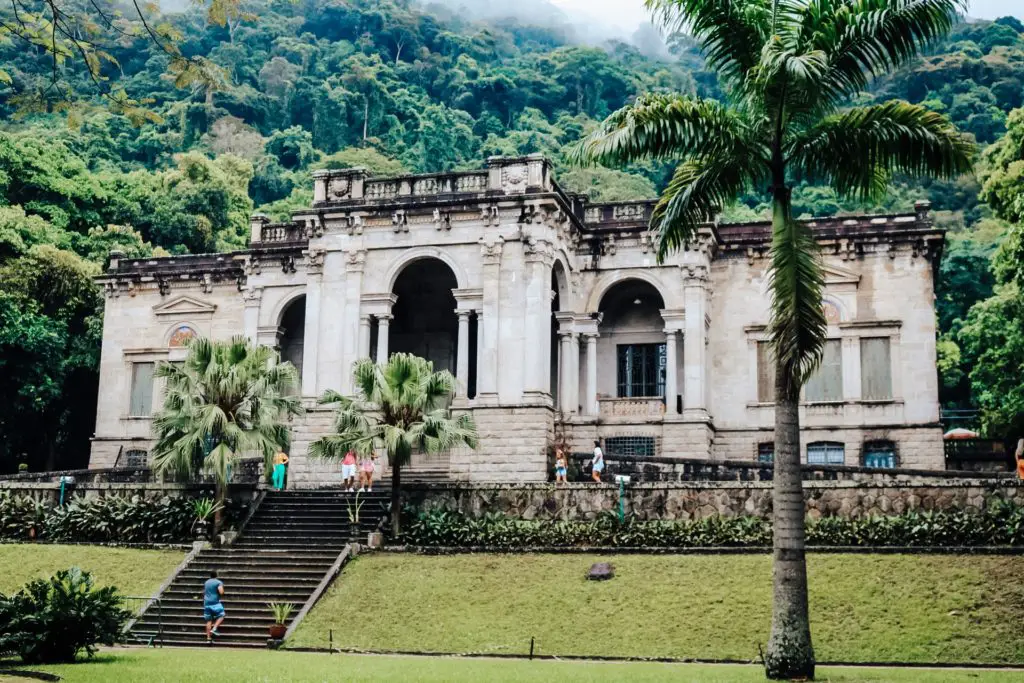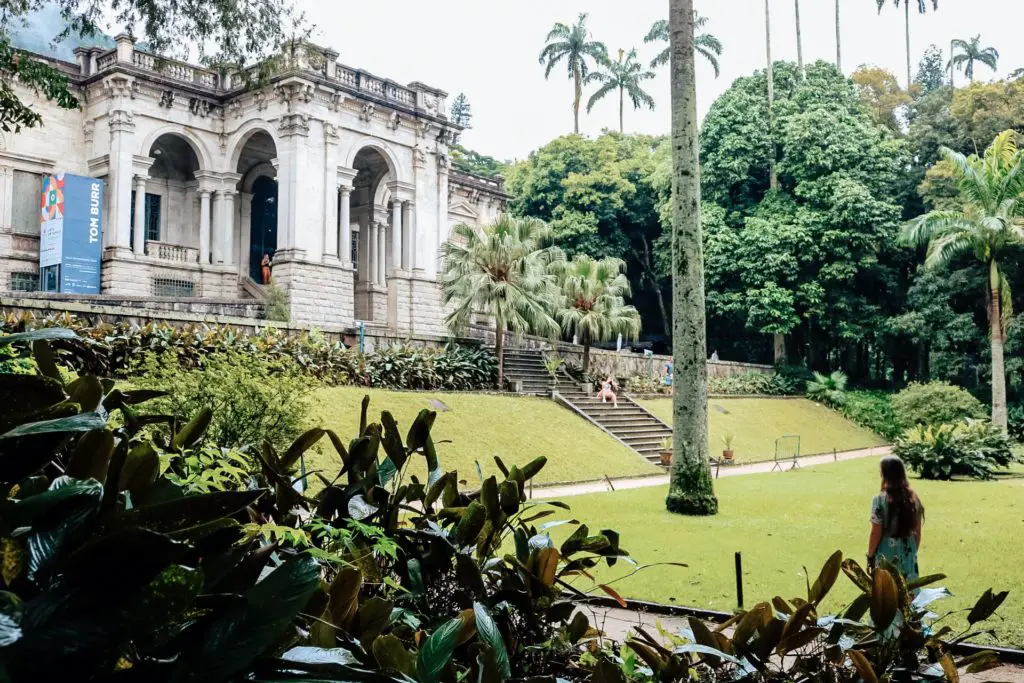 Parque Lage – this beautiful area is actually home to the School of Visual Arts. There is a nice restaurant, which is where everyone takes the classic photo in front of the pool. There is a security guard who manages the photo line, so everyone gets a chance to take the shots they want without others in the background (besides those dining at the restaurant). Go early, right when they open. You can only use a cell phone, no DSLR cameras. The exterior is just as beautiful so plan to spend some time walking around the entire park. I was also really impressed with some of the artwork on display inside. This was my favorite place in all of Rio de Janeiro. I can't imagine a more beautiful setting.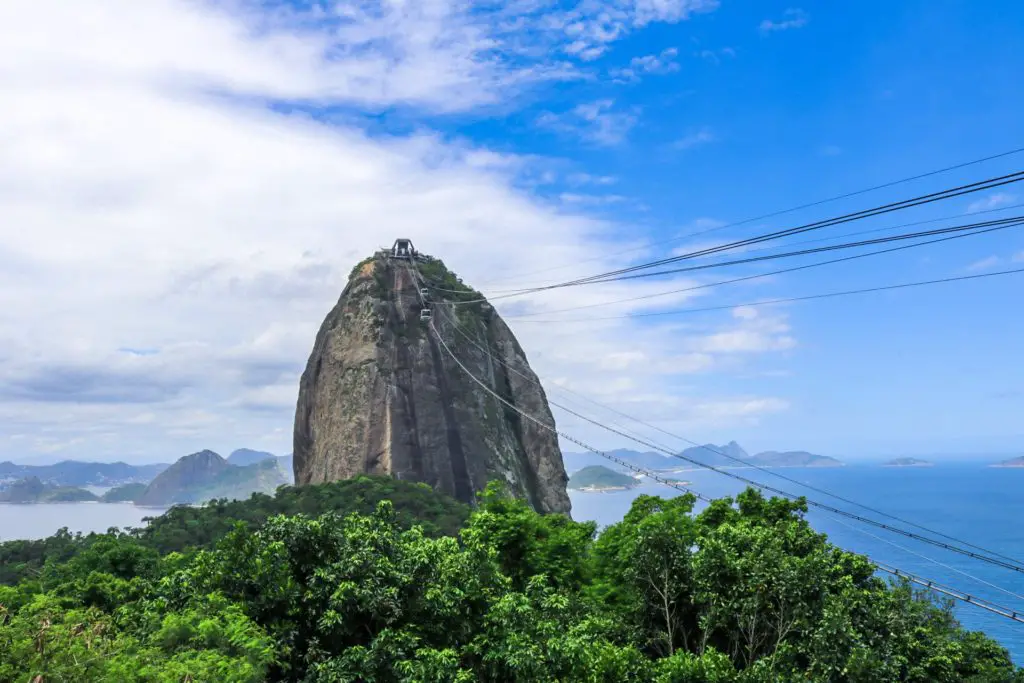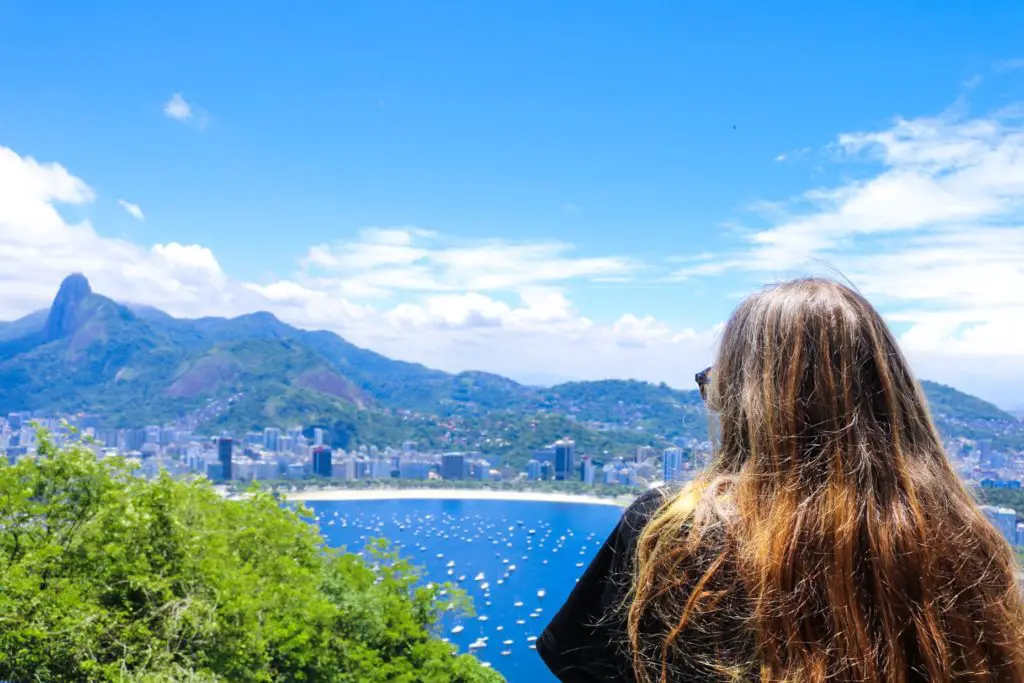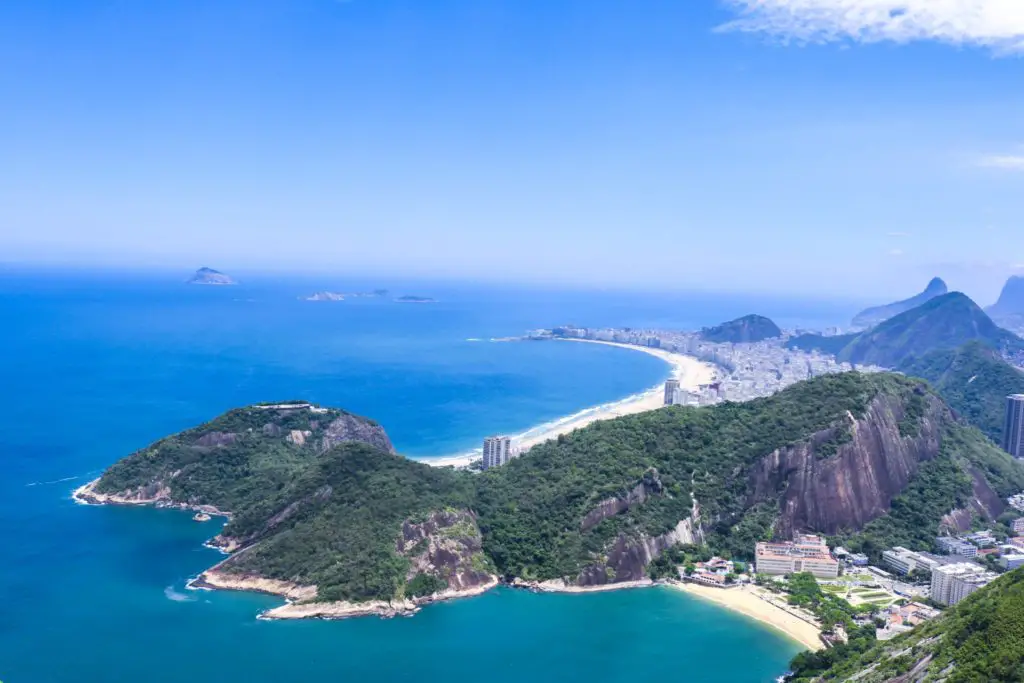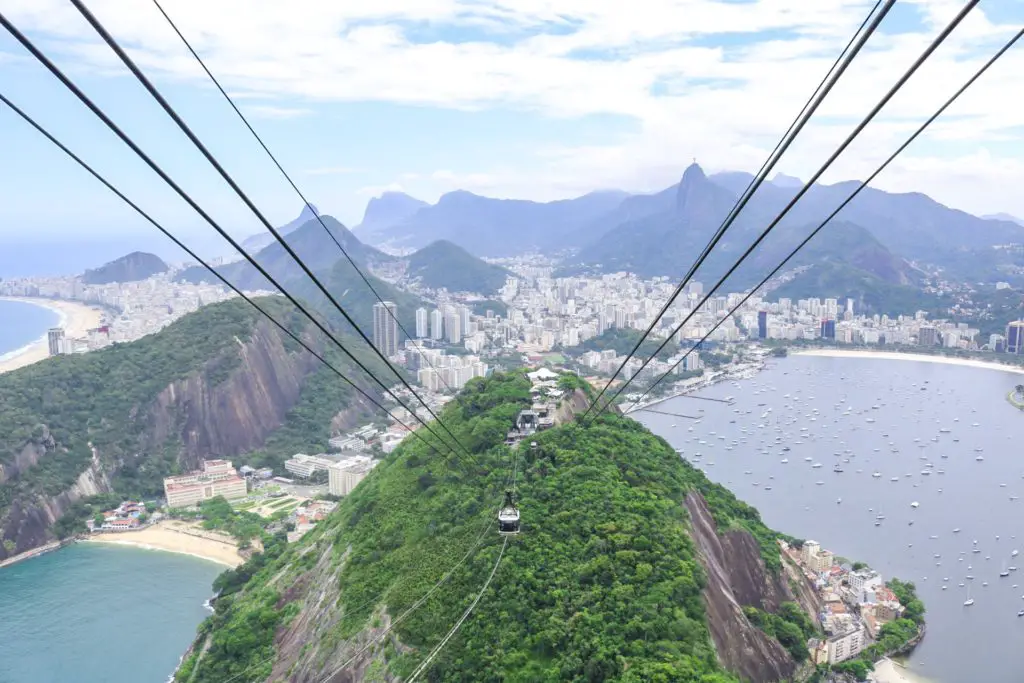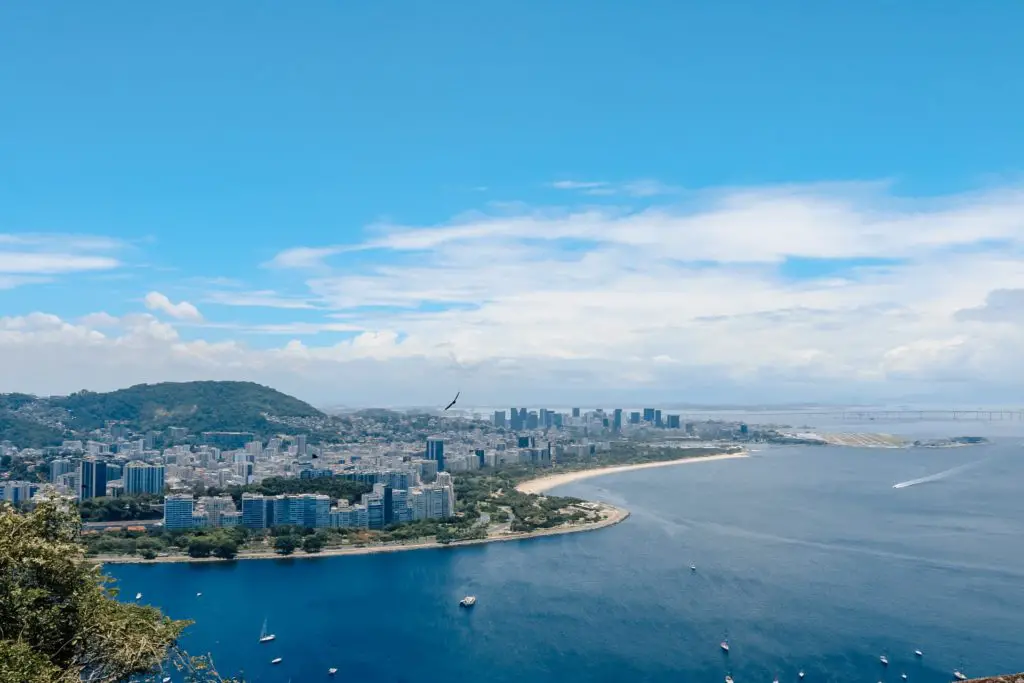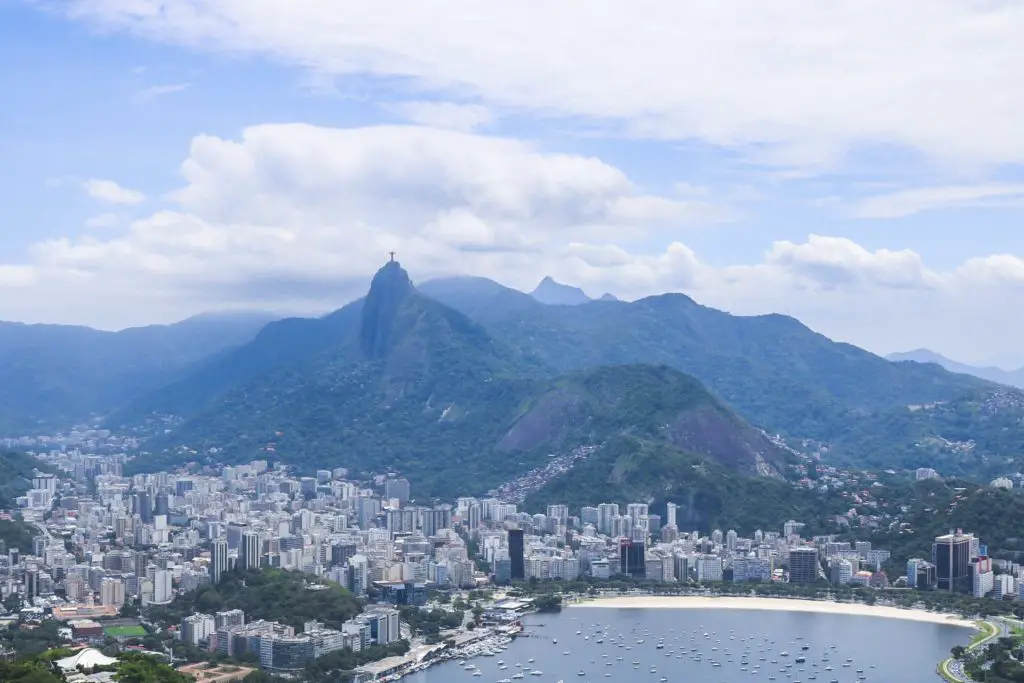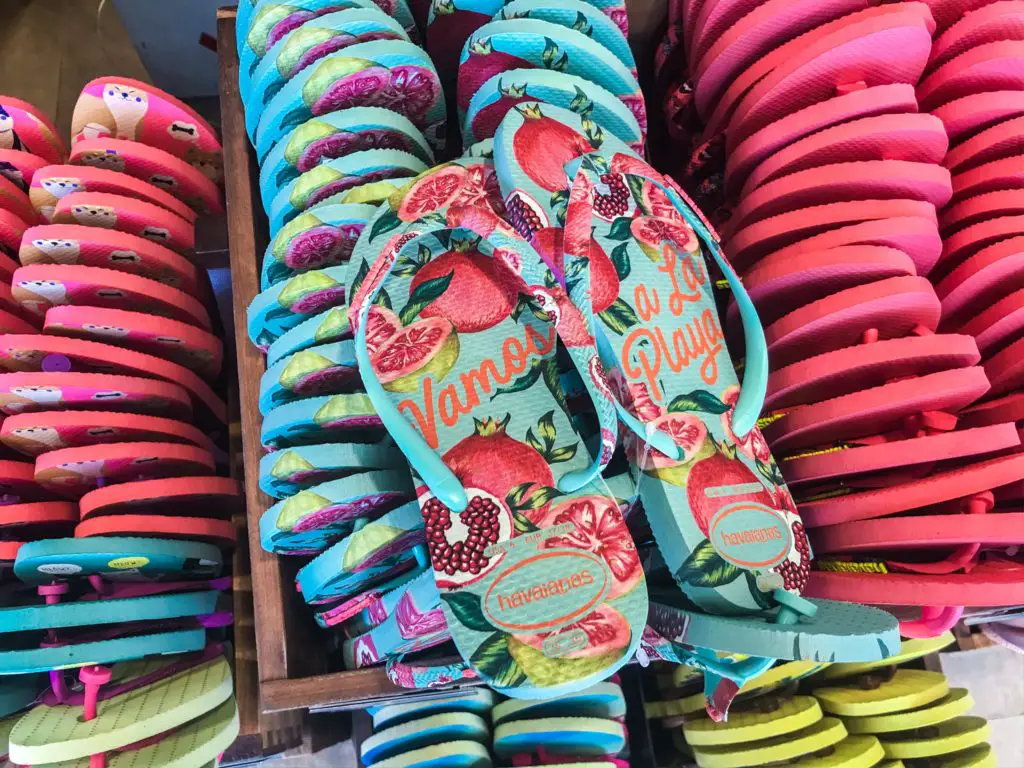 Sugarloaf – I was so happy that the weather cleared up and gave me ONE sunny day for my trip. The day before my friend went to Sugarloaf and her photos were ok, but not great. She got lucky when the clouds parted for a second so she could get a photo with Christ the Redeemer in the way distance, otherwise the views were highly impacted by the rain. I really enjoyed spending hours relaxing here on my last day. The beautiful blue skies and amazing views of the entire city were not something I wanted to rush through. There is a cable car that drops you off in two viewing areas and there is plenty of seating for you to hang out as long as you want. There were also a few boutiques and a small food court. Pro tip: I wish I had gotten the Havianas I wanted here as they ARE more expensive, but they do not stock them in the other Haviana stores so it is your one chance if you like these designs.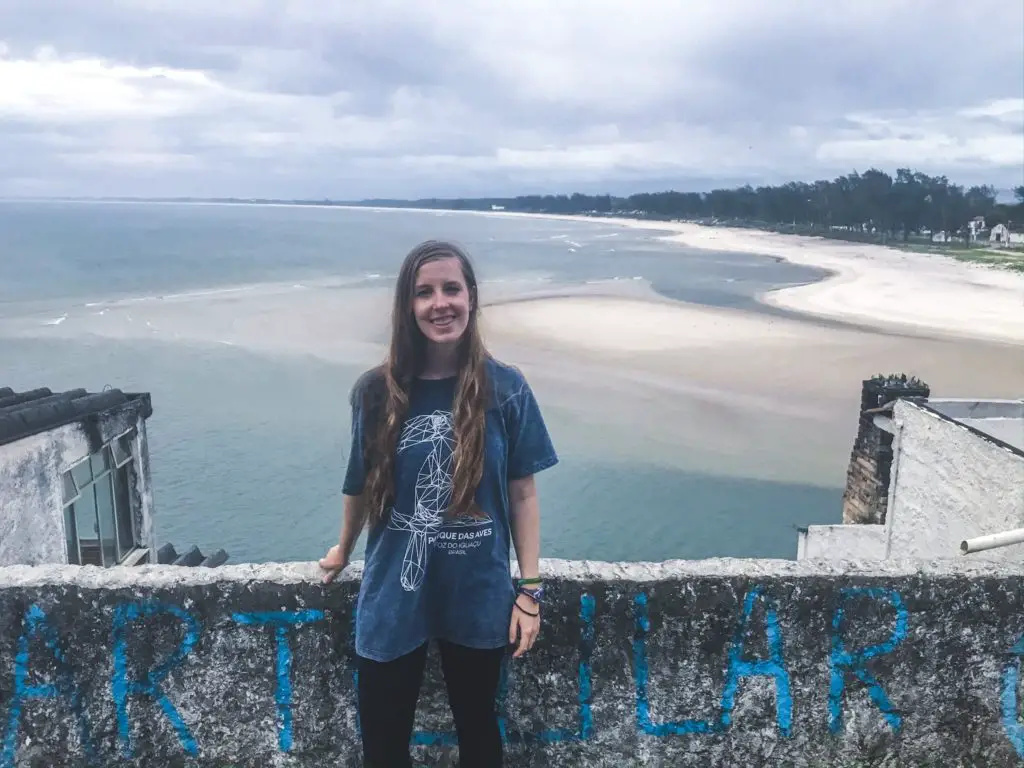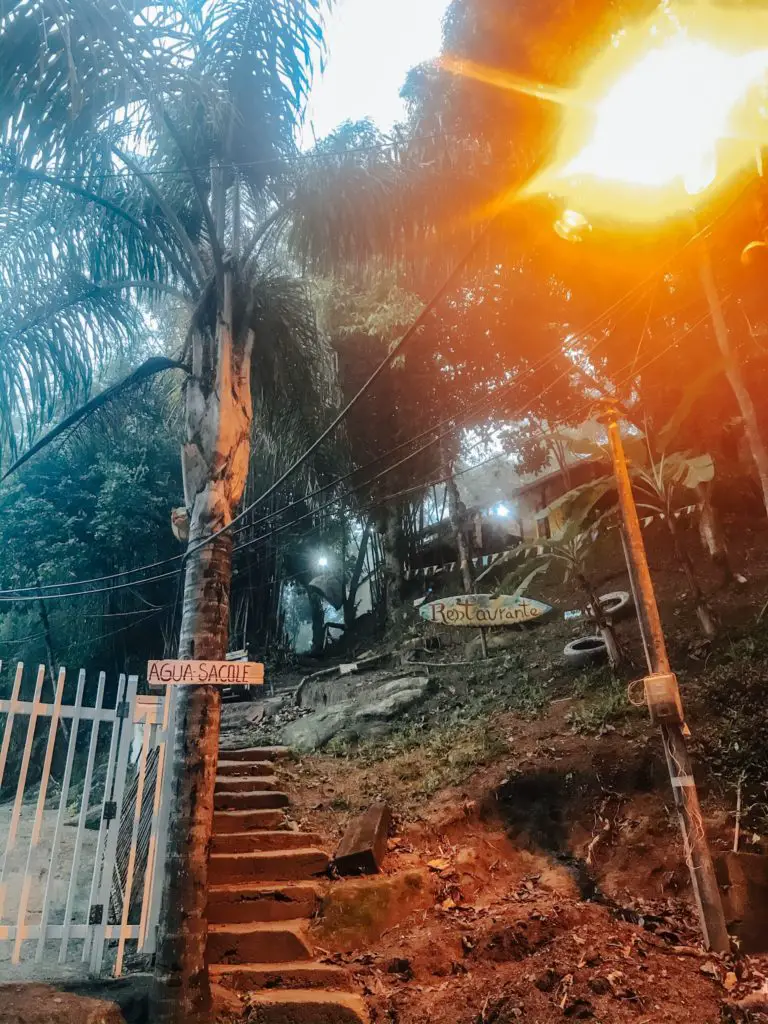 Telegraph Rock – this attraction was top on my list. I didn't want to take one of the silly photos hanging off the cliff, but I did think the view of the beach below looked stunning. The day I was scheduled to go was cloudy, but I decided to go anyway. The rock is in a national park on the outskirts of Rio de Janeiro. It is a full-day trip, a few hours drive, and I don't think you can get there on your own. I booked through Be a Local tours as they will do this attraction if asked. We couldn't see anything when we finally got there. There are no views on a cloudy day it is a waste of time.
However, I did get to see "real Rio de Janeiro" as this area is not at all touristy, people hardly come all the way out there, and it is the surf village you've imagined (nearby small beaches are Macumba, Prainha and Abrico, some are even nudist beaches). Arraial do Cabo also makes a great day trip, the white sand beach with crystal blue water is just a few hours from Rio.
Walking through the Guaratiba neighborhood to the start of the trail to Telegraph Rock was also very cool as it was a glimpse into a completely local town and the way Brazil looks outside of the touristy, city neighborhoods. I did see a hostel named "Banana Leafs Eco Hostel" so if you're looking to stay way off the beaten path I would look into this area. I would definitely book a tour to the rock if you have good weather and go early in the morning to avoid lines at the viewpoint/picture spot. This isn't the only scenic hike however, there are many more Rio de Janeiro attractions I didn't get to during my trip like Pedra da Gávea.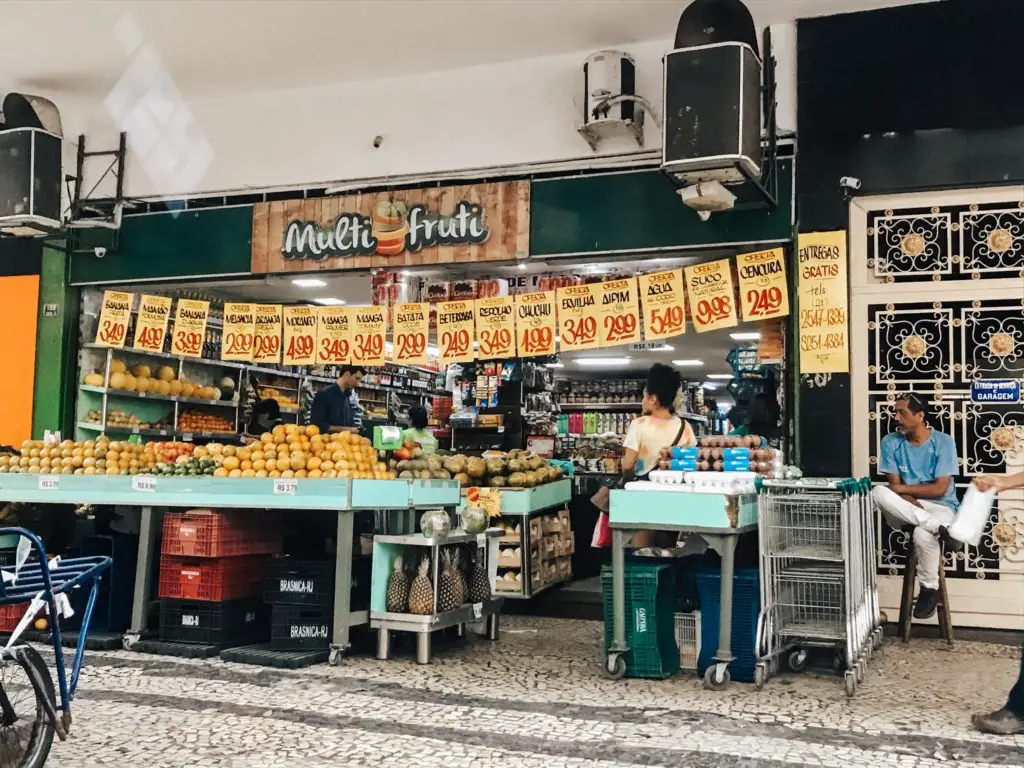 We weren't visiting during Carnival, but seeing samba dancing was still high on our list. So our guide told us about a sort of block party that typically has some dancing happening as the evening goes on. When we told our Uber driver we were going to Pedra do Sal, he told us to exercise a lot of caution and to not leave the square because it is surrounded by a favela. We did see some shady-looking men blocking one of the streets as it went uphill, so I think this is good advice, but we were perfectly fine staying in the main square area. The street party was already pretty lively when we arrived about 9:30-10 pm and there were several carts selling mixed drinks, beer and street food. We stayed about an hour and saw a little bit of dancing – I think to see more you should plan on being there pretty late. I was really glad to have heard of the Monday night dancing as it felt like a really authentic local experience and I recommend stopping by.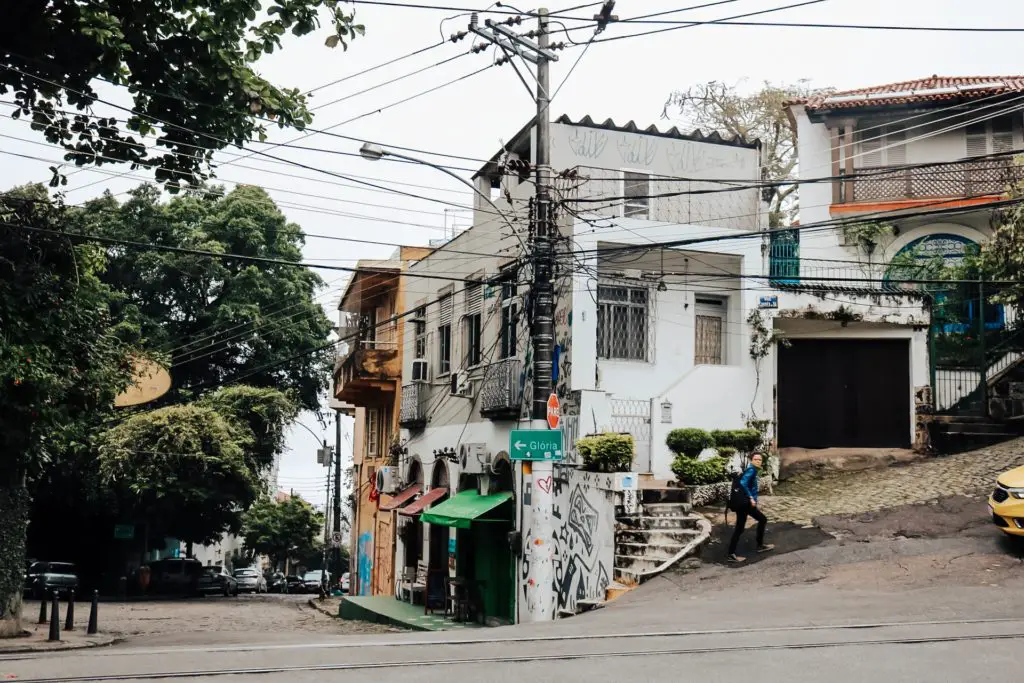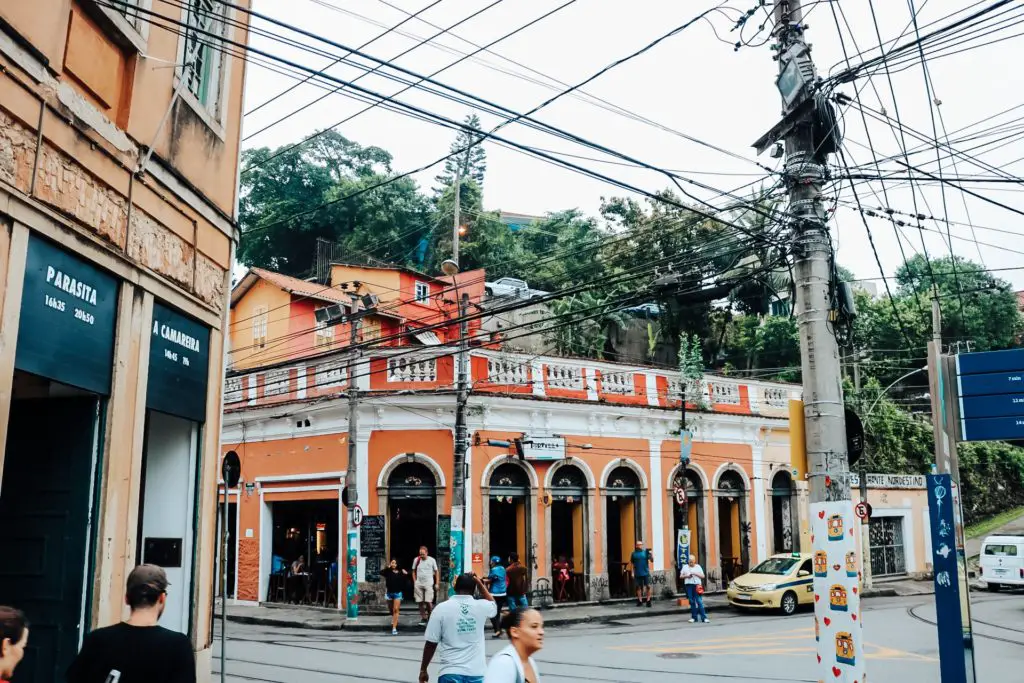 On our Be a Local tour we also saw the neighborhood of Santa Teresa, the Lapa (Selaron) steps and the Metropolitan Cathedral. Santa Teresa is famous for its steep and winding streets, but it is a safe area and was historically an upper-class area. Today it is home to many artists and there are many galleries to explore. It is also the place to see the historic yellow tram! Although the neighborhood isn't a wealthy area anymore, you can still see many beautiful mansions and a nice view of the city.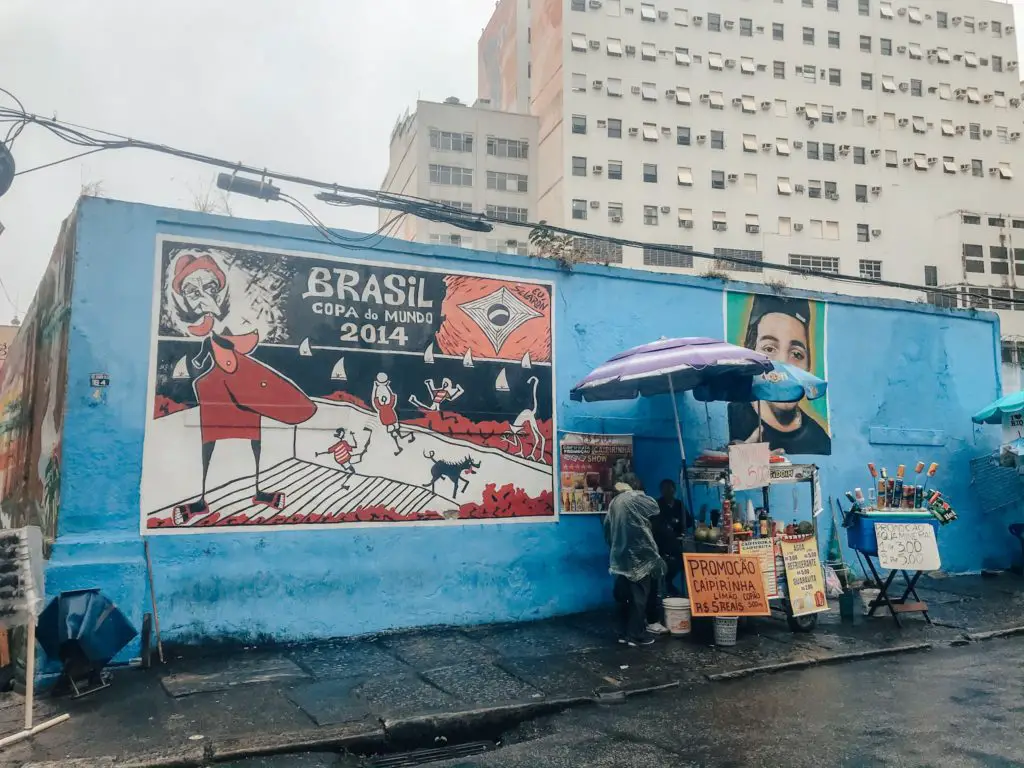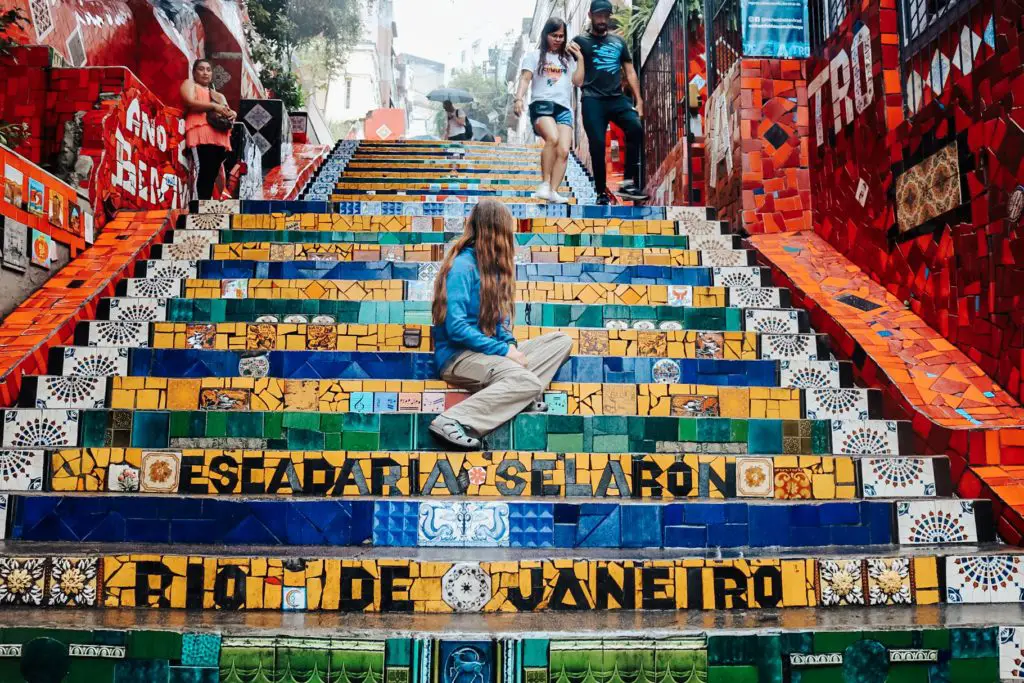 Nearby in the Lapa neighborhood (best area for nightlife) are the famous tiled Selaron Steps. This landmark is a must-see and is always busy and hard to get photos without people in them.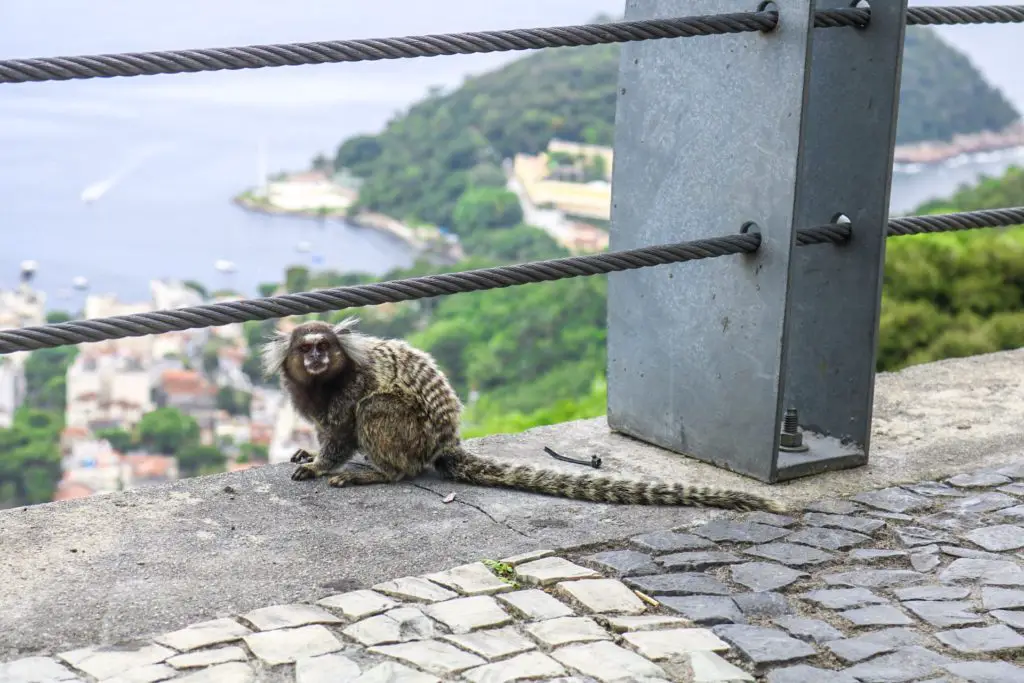 We also visited the Metropolitan Cathedral on our city tour. It is a very unique church because it is built to resemble a Mayan pyramid and definitely worth a look if you have time.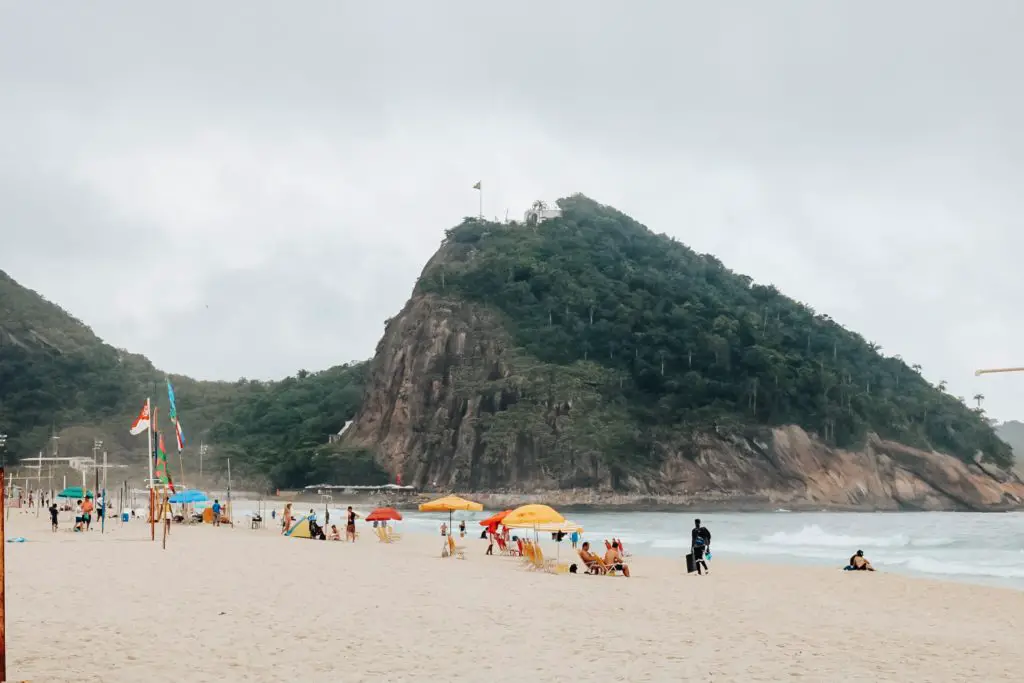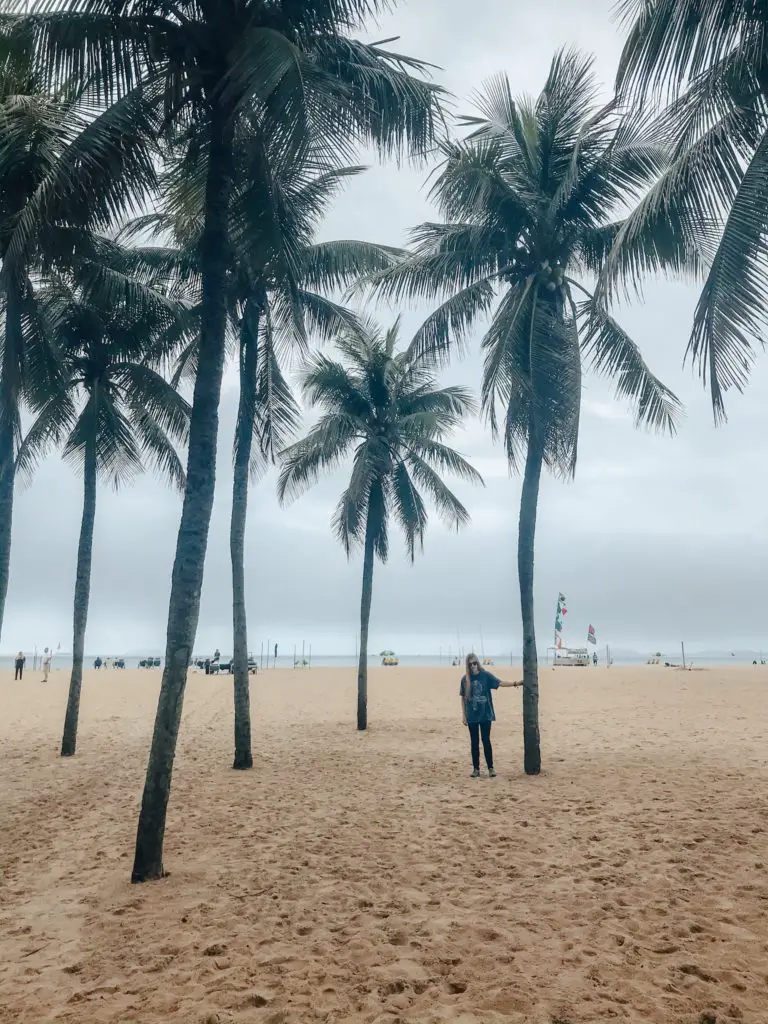 Copacabana Beach was not high on my list to see and it honestly didn't wow me either. We visited on a semi-sunny day and the beach was pretty deserted. We didn't see any of the much-talked-about "dental floss" bikinis either. The surrounding area has a lot of shops and nice hotels like the Hilton. It is very busy and wasn't that pleasant to browse and shop. It sort of reminded me of Miami maybe, a commercial beach area. But I was able to score some very cheap Havianas and Brazil has many designs you won't find in the U.S.
Brazilians love a buffet! It is most common that restaurants are "churrsceria style" meaning that there is a large buffet in the middle and servers bring around various meats to the table and for those interested, shave off pieces of the meat onto your plate. As a vegan, I was able to get a discounted price since I was only getting food from the center buffet. This is not your typical buffet, either! It was LOADED and full of delicious vegan options. The servers were so nice to point out what I could and couldn't eat. There are two types of these buffet restaurants: fixed price and you can get as much from the buffet as you'd like, or the price is by weight and they check your plate every time you go up for food.
I was also happy to see some local natural markets where you could buy in bulk. Another unique concept is in effect at the Curto Cafe, where you pay what you think is fair. It's a great place for coffee or treats and the business is based on honesty and integrity.
Vegetariano Social Clube was near our accomodations (Hotel Regina in Flamengo) and highly rated online. It was definitely good vegan food, but not amazing. I really enjoyed the appetizers: vegan cheese empanada and the Coxinha de jaca (fried dough filled with jackfruit, a vegan version of the popular street food).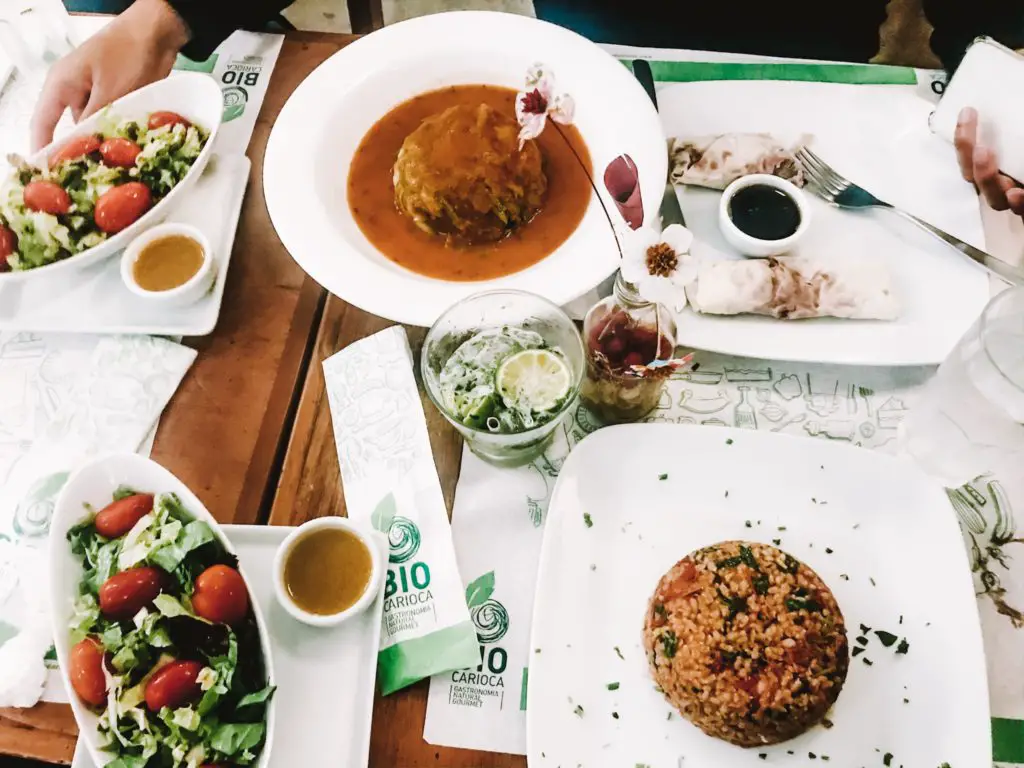 Bio Carioca was a pleasant surprise. I saw this restaurant advertised on a map and it was a really lovely place. The food was good and there were so many delicious-sounding options I was at a loss of what to order. I ended up ordering a tomato risotto and a caipirinha. Caipirinha is the famous Brazilian cocktail and similar to a mojito, I loved it and highly recommend trying one.