Recently my parents taped a Smithsonian Channel special called Aerial New Zealand for me to watch. I was thrilled when I realized that I had been to most of the places featured. I had long wanted to visit New Zealand, and I knew I wanted to experience all of it, trekking from top to bottom of both islands. I'm pretty confident that after spending many weeks I really got to know this great country. After exploring Australia's east coast and outback I flew from Darwin to Queenstown and immediately felt like I was home.
SOUTH ISLAND
Queenstown
This is my favorite area in New Zealand! This is my favorite place ever! I will live in Queenstown one day! A lot of people ask me why I loved it so much. I'm not really sure, except it was the most beautiful place I've ever been and a really chill town. The lake is visible most of the time as you walk around and it is gorgeous. I was in complete awe of the natural scenery. Additionally, the shops and restaurants are pretty awesome. I went to a cool craft beer joint and caught live music nearly every night at Ballarat Trading Co. The Fergburger restaurant is quite famous – you may even have a celeb sighting – and they had two veggie options that were decent. Queenstown is called the adventure capital and there are a lot of options from the original bungee jump site to intense whitewater rafting.
Franz Josef Glacier & Milford Sound
This one requires some planning. I was SO excited to get to walk the glacier, but the entire time we were there the rain prevented us from going! I recommend either planning to be there a few days (tough because there isn't much to do outside of the glacier) so you have multiple chances, or being flexible in plans and able to drive over when you see the weather is good. We were also unlucky with weather when we visited Milford Sound. These are the rainiest places in New Zealand though and that is very common! Rudyard Kipling called the Milford Sound the eighth wonder of the world and even though it was very foggy the fjords were quite impressive.
Christchurch
When I visited Christchurch in fall 2017 there was still a lot of damage from the 2011 earthquake. Many buildings are abandoned and much construction is needed. It was fairly eerie to see the remnants of a major natural disaster everywhere. However, there are fun new places like the Re:Start Mall popping up (colorful shipping container shopping area).

NORTH ISLAND
Wellington
Wellington was a nice mid-size city. The botanical gardens are beautiful and it was a nice walk from our hotel to get there. I also rode the cable car which only took five minutes and had great views.
Taupo and Huka Falls
Taupo is a very cool little town with the most beautiful water! We took a sunset cruise on the lake – I definitely recommend doing this! I wish I had more time to walk around and shop. I found the best design store in town and wanted to buy everything but couldn't figure out how to ship furniture to the U.S. easily so I settled for placemats.
Huka Falls is home to the jet boats! I rode these in Queenstown and by the time I stopped screaming the ride was pretty much over so I was super excited to try it again in Huka Falls. It is SO MUCH FUN! Seriously the design of the boat lets it sort of hover over water and do all these cool spins. Somehow they are able to get the boat really close to the side of the riverbank or a tree and then it boomerangs away from it. The ride is very thrilling and fun!
Rotorua
Rotorua smells! There is a lot of sulfur and some parts of the town have more rotten egg odor than others. I got used to it quickly and only noticed if I was coming back into town, but some people I was traveling with found it unbearable and said they had headaches and nausea the whole time. If you can get past that there is so much to do! Our visit to the Mitai Maori Village was astounding (see more on this below) and I also had so much fun on an eco zipline tour.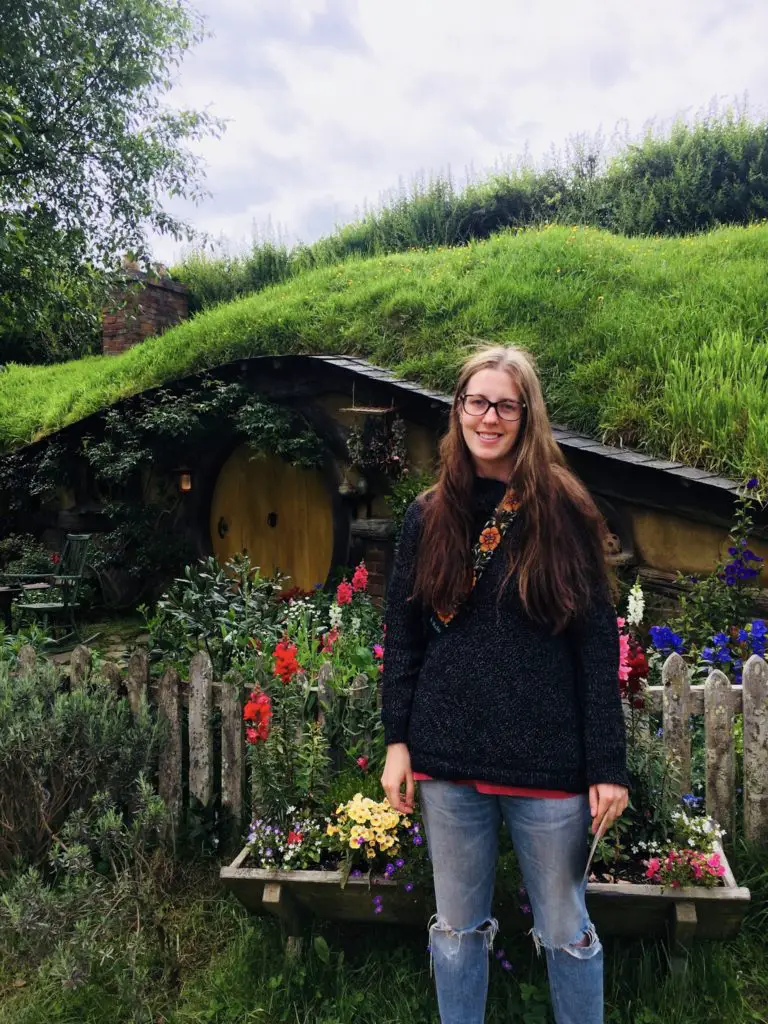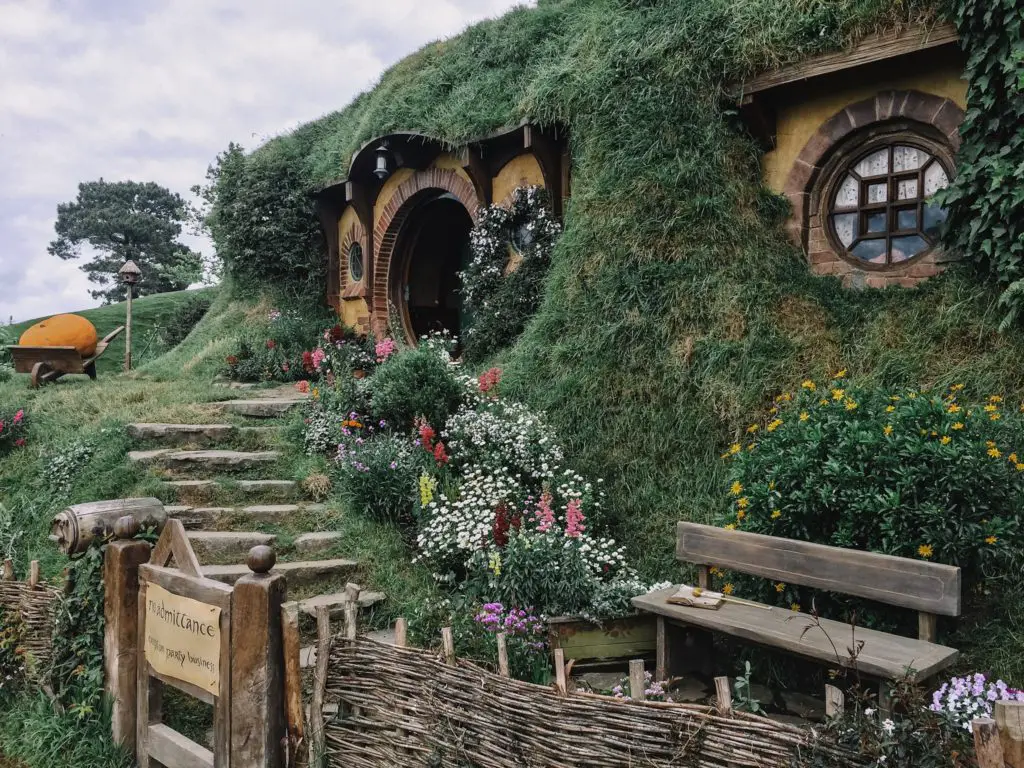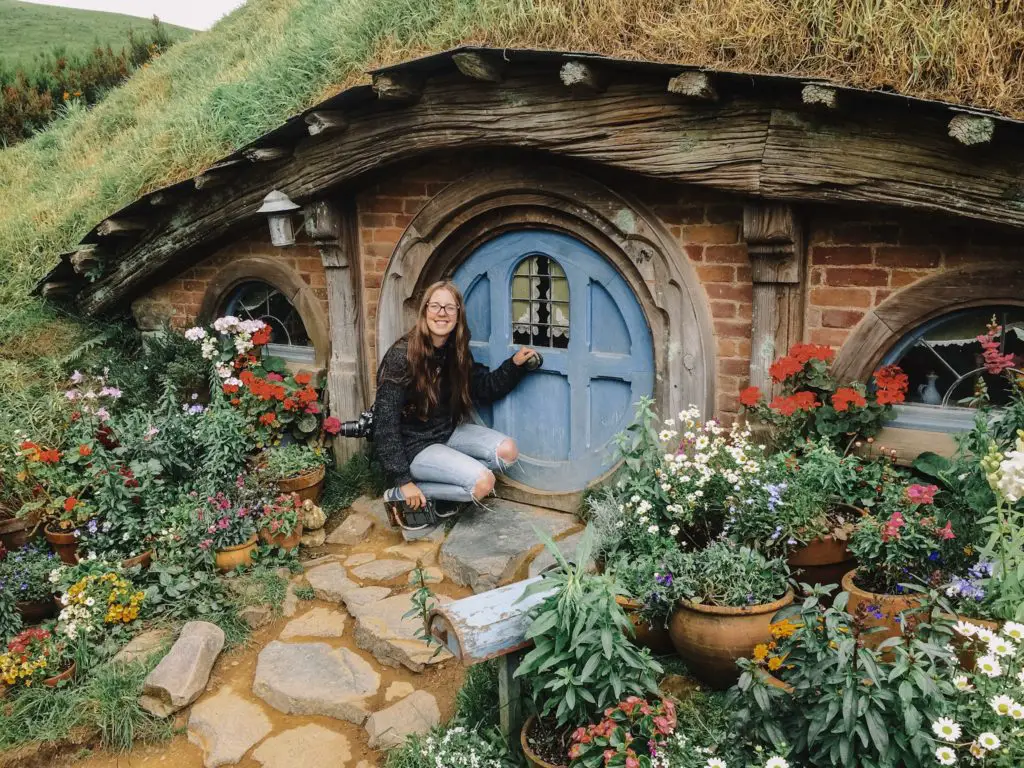 Hobbiton
If you're a Lord of the Rings fan this is a must do when you visit New Zealand. I regretfully hadn't seen the movies and felt a little ire from the guide and other travelers/fans on the tour for not recognizing every little house. BUT! Despite not being a fan, I loved this place! It's adorable and you can spend so much time wandering around photographing the houses. There are also special movie-inspired beers at the Green Dragon Inn!
Auckland
This is New Zealand's major city and there's a lot of shopping, restaurants and a few sites. I enjoyed the panoramic views of the Sky Tower and it was fun to see people doing the major sky jump or walking around the top of the tower. I flew from into New Zealand at Queenstown, but Auckland is also a good place to begin your journey. If you fly into NZ's biggest city, there are several ways to get there from the airport.
Maori History
There are many places to learn more about the indigenous Polynesian people. We got to experience a traditional Hāngi dinner (cooked underground using hot rocks) in Rotorua complete with a Haka dance. Mitai Maori Village is amazing and full of sacred spots. If you haven't seen the Haka – usually performed by warriors on the battlefield to scare other tribes – it's definitely worth searching on Youtube. However, there were many tour groups at the dinner and several people had inappropriate reactions to the serious dance (laughing, scoffing, talking, etc) and I implore you not to be one of those people. Later as we got to Auckland we took a guided tour of the Waiangi Treaty Grounds (established British sovereignty).