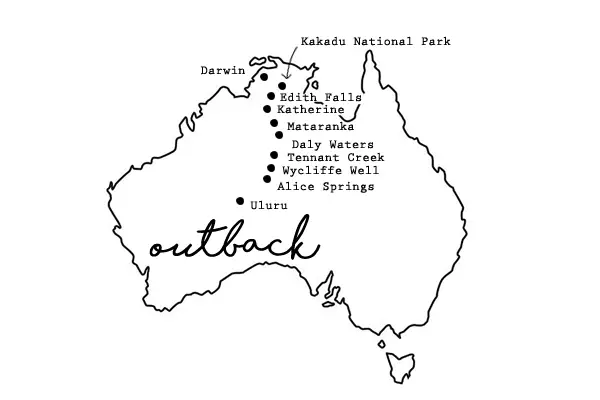 Visiting the Outback is an extremely special and rare experience – so much of Australia is truly another world it is so remote. You can rent a car and explore on your own, but I don't really recommend it. Traveling with a tour or group is a lot safer as you can break down in extreme temperatures and not see another vehicle for hours. Outback Australia also uses the Royal Flying Doctors Service and there aren't regular hospitals, urgent cares or even doctors offices. Things are so different in the Australian Outback: after a few weeks I was so sick of flies I could hardly bear to be outside. People are constantly waving in front of their face because large black flies persistently swarm around you unlike anywhere else I've ever been (including Alabama and Louisiana in August). However, the chance to interact with Aboriginal people and see amazing canyons and wilderness is definitely worth it. Since my trip I have met Australians who have never been to the Outback and tell me that I've seen more of Australia than they have.
Alice Springs
I flew here from Cairns after exploring Australia's east coast. This is sort of the gateway to the Northern Territory Australian Outback and a larger town – great place to stock up on supplies. There's a lot of Aboriginal art galleries here. We visited the nearby Walpiri Aboriginal community where they taught us to throw a boomerang and we got to try bush tucker (native flora and fauna) and purchase art. Be sure to ask before taking any photos of Aboriginal people as they are very shy and some follow cultural beliefs about not being permanently recorded in an image.
Kings Creek Station
Originally we were supposed to sleep under the stars in a swag but after setting up camp and turning in there was a major thunderstorm. We ended up staying in small tent-cabins, but it was still a really great experience to stay in the great outdoors. Camping is also a great way to reduce costs when traveling in Australia. If you're interested in long-term road trips, this family recorded how much they spent traveling for 12 months.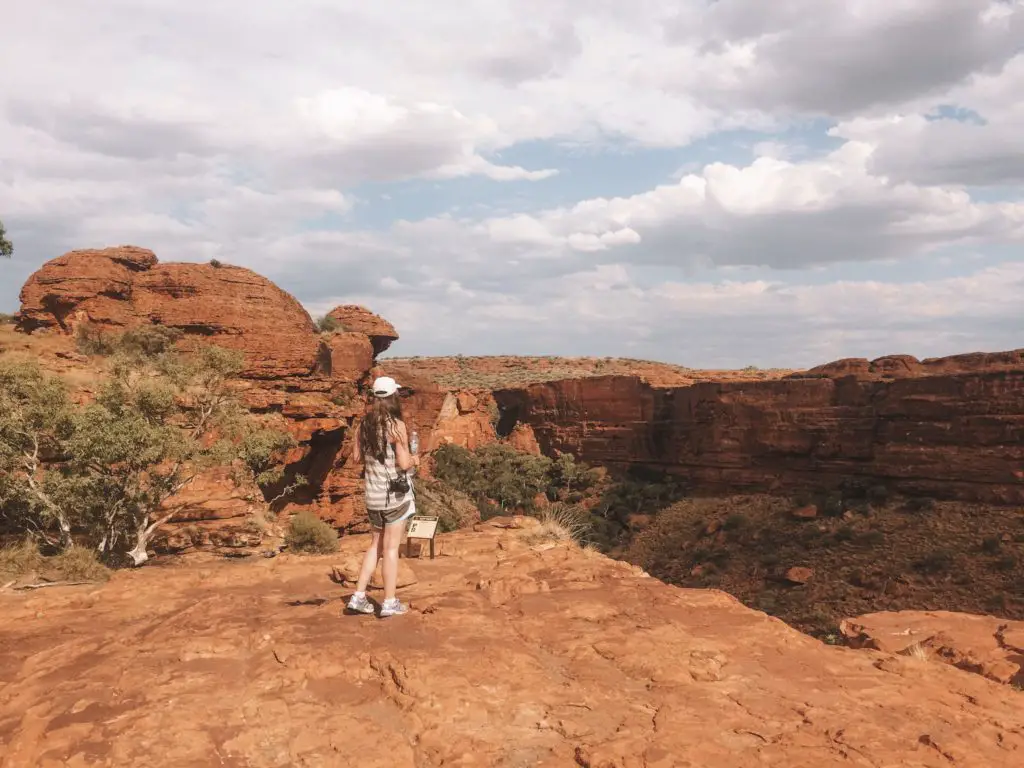 King's Canyon
This is Australia's version of the Grand Canyon and it is breathtaking. The hikes are strenuous and I drank a ton of water but got gorgeous photos. Be careful of getting too close to the edge though, when we visited we heard that a tourist had fallen to her death just a few weeks prior. It takes a few hours for the medics from Royal Flying Doctors to reach you so it is better safe than sorry. Besides with a little caution you can still reach remarkable vantage points as hardly anything is fenced off.
Uluru
We spent a few days here as there's a lot to do at this super sacred site. First we hiked through Kata Tjuta (Uluru's sister site). The next day we wanted enough time for a long walk through Uluru listening to all the dreamtime stories associated with the huge rock formation. We woke up early for a sunrise photo op at Ayers Rock, but I recommend going for sunset instead. My photos were the best at this time and there were a lot of people toasting the sunset with a glass of sparkling wine.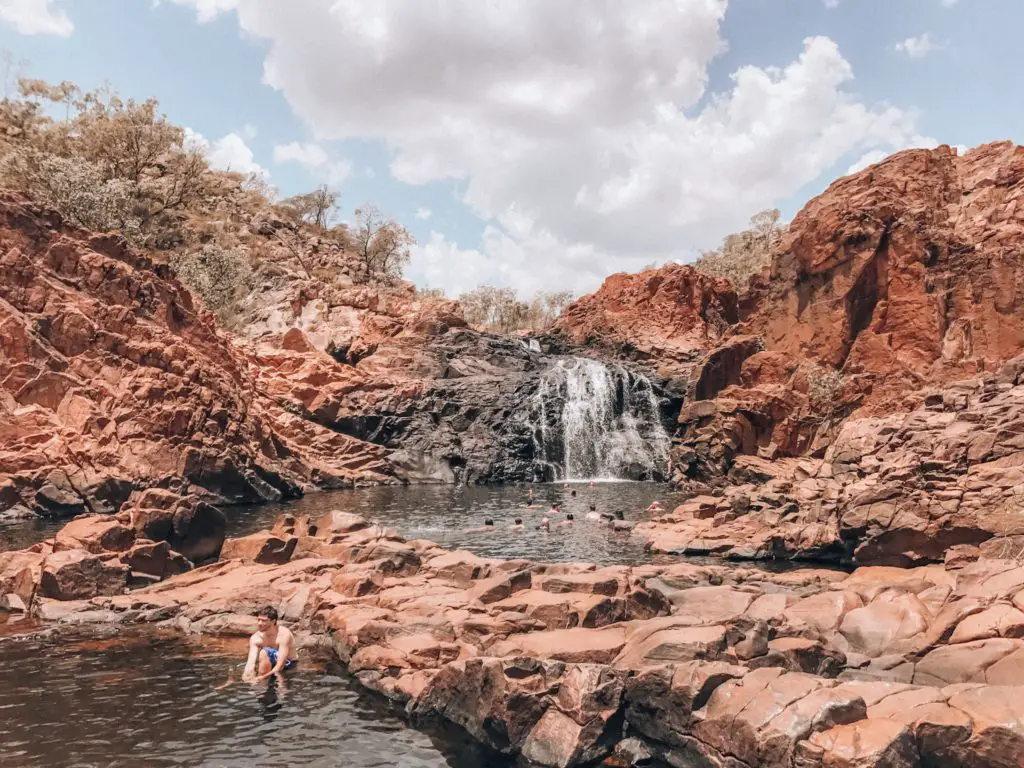 We stopped at a lot of smaller places along the way to Katherine Gorge and Kakadu National Park: Tennant Creek's rock formation the Devil's Marbles, Wycliffe Well for UFOs, the historic Daly Waters pub and the Mataranka thermal pools and Edith Falls.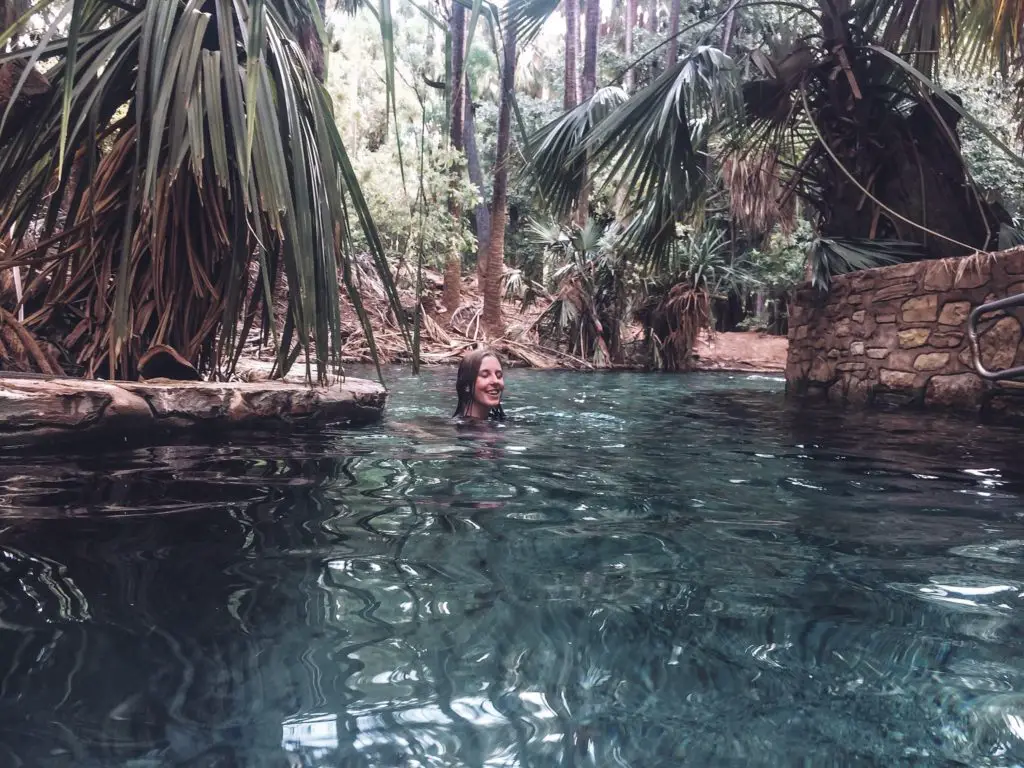 Kakadu National Park and Darwin
This park is huge and they go to a lot of steps to keep visitors safe among the wildlife (unfortunately this includes tracking and killing aggressive Crocodiles). We did take a boat ride where we got to see a lot of Crocs in the wild. This area is also home to Nourlangie Rock which features Aboriginal rock art.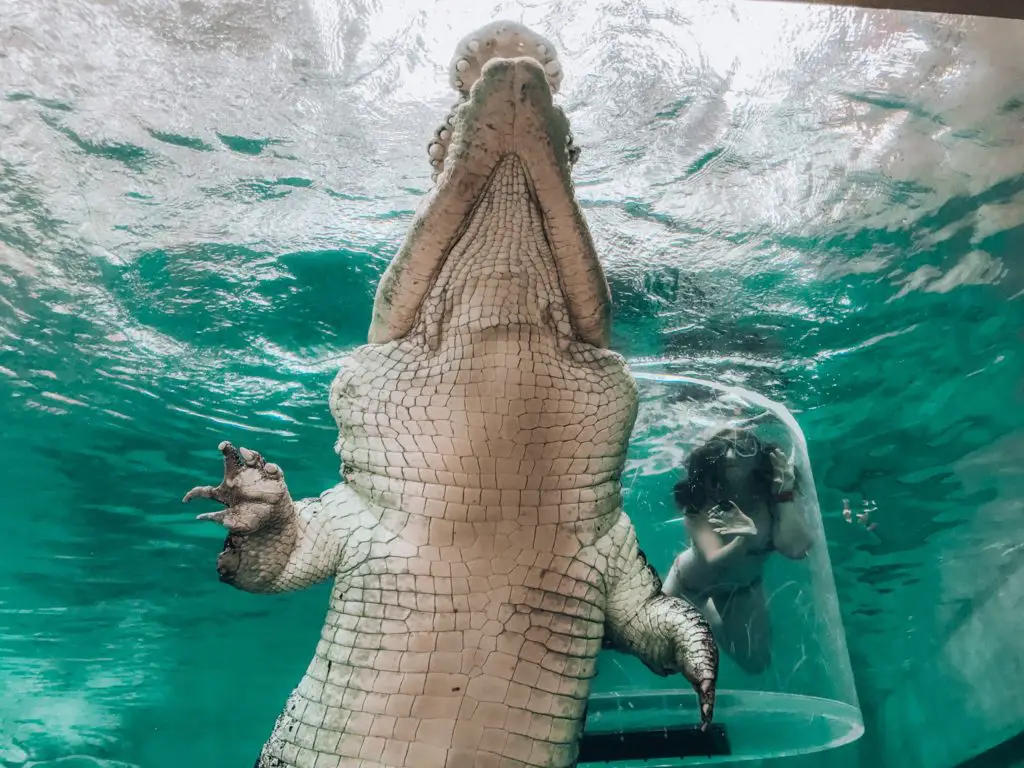 Darwin is a super tropical humid city, just walking around I often felt faint (it was about 41C). There's a lot of military history chronicled in the local museums. You can also swim with 15-foot saltwater crocs in the Cage of Death at Crocosaurus Cove. Normally I wouldn't recommend anything zoo-like but it was a cool experience to see these creatures up close and they get to live out their life unlike a lot of crocs in the wild. After finishing my tour of the Australian Outback I hopped on a plane from down under to New Zealand.