Most people can't believe it when I tell them I've traveled for months with just a backpack. It's very easy to do! I used to always overpack for trips but now I've got the luggage essentials down to a science.
Here are my tips for saving space: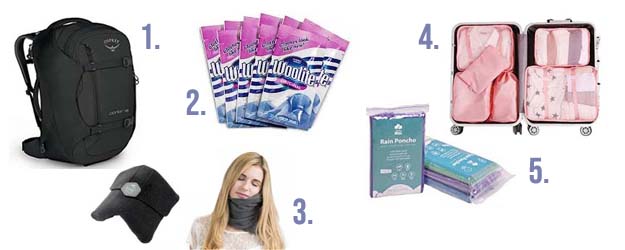 1. Your backpack is important – choose one that has a hollow inside similar to a suitcase. I chose the Osprey Porter 46 for my first trip abroad and I've been loving it ever since. There are a ton of useful pockets and straps that will compress the size a bit. Plus it is fairly comfortable when wearing for extended periods of time. It has fit in nearly every overhead compartment I've tried as well (you may have issues if you're in an exit row).
2. Laundry packets – these are a lifesaver! I always bring some detergent with me. Sometimes you get lucky and your airbnb or hostel has laundry facilities, but most of the time I stop the sink and handwash whatever I need to (I wash my socks and undies often when traveling using this method). Just hang them to dry overnight! It's especially helpful to have a mesh bag with you to separate out your dirty clothes in your suitcase.
3. Travel pillow – DO NOT GET THE U-SHAPED ONES AT THE AIRPORT. These never work for me, I always end up with a crick in my neck and they take up so much room. I did a lot of research on the perfect neck pillow when I was preparing for my 16 hour flight to Australia and New Zealand and I found the Trtl! It wraps around your neck like a scarf so it keeps your neck upright and keeps you warm. The best part? It folds down relatively flat for packing.
4. Packing cubes – I didn't use these during my months-long trip to Australia and New Zealand and it was so annoying to have to repack my entire backpack every few days when I moved to a new place. These eliminate that extra work! I separate my tops, pants, etc into unique cubes and label them so I only take out what I need. If I do need to repack it is very easy to just assemble all the cubes into your pack. Bonus: they keep your shoes from getting clothes dirty!
5. Pancho – These fold up so small in your bag. No need to take a bulky rain jacket! They are especially useful if you're going someplace warm and don't want a heavy jacket. When I went to Australia and New Zealand I had to pack for both very hot Australian outback and cold New Zealand spring and I didn't have any room for excess coats.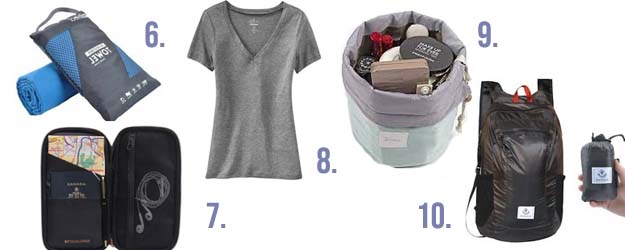 6. Microfiber towel – Admittedly, it isn't the best towel experience. But if you end up going to the beach you avoid having to rent a towel. It's also useful if you stay in a hostel that doesn't provide towels. Plus, it's very thin and saves a lot of space.
7. Document holder – This is a great way to keep your important papers together (make sure to bring copies of your passport). I like to make itineraries and restaurant lists so I have all the addresses and confirmation codes I need. Pro tip: don't bring entire guide books! Instead, photo copy or tear out the pages you need.
8. I learned my lesson about bringing expensive and unique clothing with me traveling when my belongings were stolen in a hostel. Now I bring basic tops in solid colors that are easy to mix and match. I also bring inexpensive black leggings, jean shorts and black jeans. It's easy to do once you build a capsule wardrobe. This allows me to pack fewer clothes and people aren't as likely to notice you're re-wearing outfits than if you had lots of loud prints.
9. I love this waterproof cosmetics case. It is great for organization and makes it easy to carry your liquids to the bathroom if you are staying in a hostel. When traveling I try to minimize the liquids I bring as I've had TSA agents throw them out multiple times. Therefore I usually forego the shower gel and bring bar soap. I've also heard good things about bar shampoo and conditioner and plan to try that in future.
10. Compact day bag – I am a backpack person. It's so easy to take everything you need with you. But it isn't fun to have to wear another pack on your front when you're walking through the airport. I suggest getting a day back pack that you can compress into a tiny ball. If you need another vessel for your personal items when traveling take a reusable tote that you can lay flat in your luggage when not using.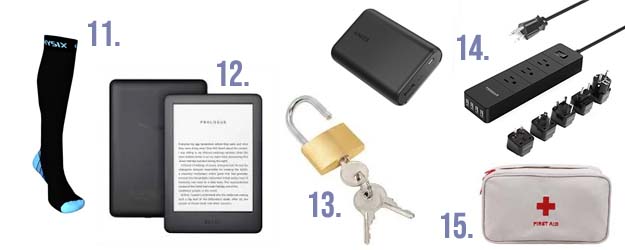 11. Compression socks – aka airplane travel necessities. When I got to Australia my feet were so swollen they felt like walking on a water bed. It took hours for them to get back to normal! Now anytime I fly more than four hours I wear these.
12. Kindle – You can find used e-readers on eBay for pretty cheap! I used to pack several paperbacks, but this saves so much space. You can even check out books for your Kindle from your library for free.
13. Locks – These are really helpful if your hostel has storage so you don't have to take everything with you all the time. I also sewed rings near the zipper on my day bag so I can put a lock through the zipper and ring when out and about. It takes away any fear I have of pickpockets. I just wear the key on a bracelet so I can easily unlock to get out my water bottle or camera.
14. Adapters and portable battery – These are the ultimate travel accessories. I typically need to charge several things at once so this power strip is really helpful. It also comes with adapters. I research which outlet types I will need and mark them by type/country. I also bring this portable battery with me every day so when my phone battery gets low I can charge on the go.
$29 from Amazon ; $30 from Amazon
15. Emergency kit – This doesn't have to be big. I have a little case that I keep a few luggage essentials in: ear plugs, extra contacts, bandaids, medicine like ibuprofen and Pepto-Bismal, cough drops, vitamin C.
Additional tips:

Always bring more contacts than you think you'll need! I tend to rip more contacts traveling than ever and learned my lesson when I ran out and had to rely on glasses only in Europe. I never take less than two packs of extra contacts now, even if I will just be there for a week.

Did you know you can order foreign currency in advance from your bank? Avoid getting ripped off with bad conversion rates at the airport.

Google Maps is so helpful when walking around a new city, but it uses a lot of data. However, you can pre-download the maps for where you will be and use them offline!